Here's a yummy Asian stir fry using a summer fave – green beans. Enjoy!
-alyce
photo: fulton davenport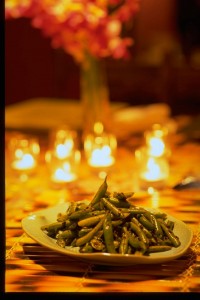 Stir Fried Green Beans with Chinese Preserved Black Beans
Author:
http://www.culinarythymes.com
Prep Time:
Cook Time:
Total Time:
Ingredients
1½ lb. green beans, stems removed
2 Tblsp preserved black beans, minced
1 Tblsp garlic, minced
1 Tblsp cooking oil
Instructions
Cook the green beans in boiling water for about 1 minute or until slightly tender.
Drain them and place them immediately in ice water to stop the cooking. This will preserve the bright green color of the beans.
Warm the oil in a wok or saute pan, add the garlic and black beans, stir briefly.
Add the green beans and stir to combine. Serve warm.
Notes
Preserved black beans are a fermented, pickled bean used in Asian cooking. They impart a delicious flavor, especially when combined with garlic.

June 1, 2013 By Alyce Leave a Comment
And for the weekend, we have a cookie. But not just any cookie, this is a delicate, buttery cookie that lends itself well to native-Texas pecans and local honey. Enjoy! … [Read More, Get Recipe or Comment...]