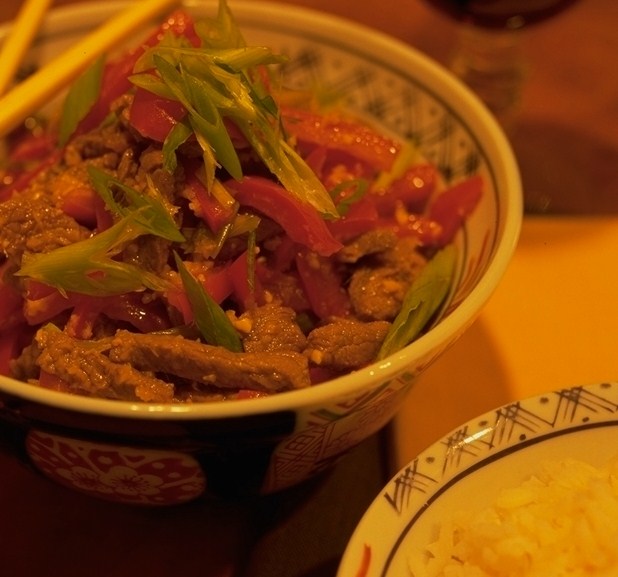 This is an easy, relatively kid-friendly stir-fry supper that I make probably twice a month. And it is really quite versatile. Got a picky kid like mine who abhors veggies and spice? Simply reserve a serving of beef after the initial stir-fry. Don't like red bell peppers? Then try sugar snap peas, and switch out the beef for pork or chicken. If you love ginger, then you will love this recipe. If you are not so enamored, then cut back a bit. -Enjoy. -alyce eyster
Photo: Fulton Davenport
Prep Time:
Cook Time:
Total Time:
Ingredients
1 ½ lb. thin cut sirloin
1 bunch scallions
2-3 medium red bell peppers
5 ½ Tblsp vegetable oil
2 Tblsp minced garlic
½ cup finely shredded or grated ginger
2 ½ Tblsp dry vermouth or sherry
Marinade:
3 ½ Tblsp soy sauce
2 Tblsp dry vermouth or sherry
2 Tblsp minced garlic
1 Tblsp cornstarch
Rice:
2 cups water
1 cup rice
Sauce:
6 Tblsp soy sauce
1 ½ Tblsp sugar
1 tsp sesame oil
Instructions
Trim the beef of any fat and cut across the grain into ¼ inch slices. Next, cut these strips into 1 inch pieces.
Whisk the marinade ingredients together and pour over the beef. Toss to coat and set aside while you prepare the remaining ingredients.
Bring two cups of water to boil. Add the rice, reduce the heat and simmer, covered, until liquid is absorbed and rice is tender, about 15 minutes.
Meanwhile, thinly slice the scallions and julienne the red peppers. Whisk together the ingredients for the sauce.
Heat a wok or large skillet, add 3 ½ tablespoons of the vegetable oil. Add the beef and stir-fry 3 to 4 minutes, until browned. Remove with slotted spoon and drain. Wipe the pan with a paper towel.
Reheat the pan with the remaining 2 tablespoons of oil. Add the garlic, ginger and scallions. Cook about 20 seconds, until fragrant. Add the peppers and toss lightly. Add the dry vermouth and stir-fry for about 1 to 1 ½ minutes then add the sauce and cooked meat. Stir briefly until the meat is heated through and everything is coated with the sauce. Serve over rice.