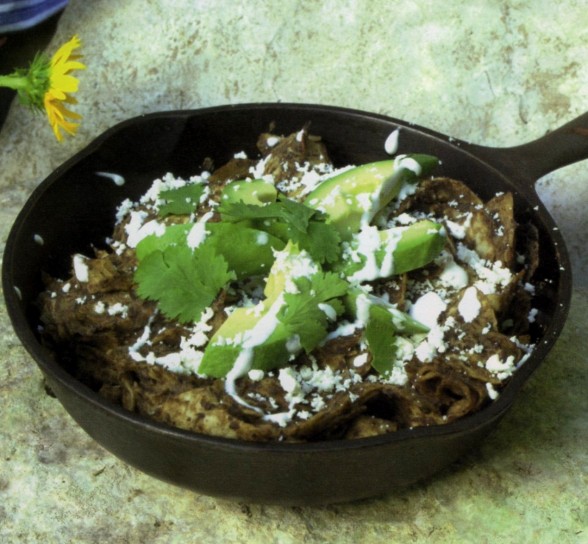 My mouth waters at the thought of chilaquiles.
Black beans rife with chipotle chilies, the light crunch of a tortilla chip plus the creaminess of the avocado and herby cilantro — what's not to like here?
This recipe is full of palate-pleasing flavors and textures. Enjoy it.
-alyce eyster
Author:
http://www.culinarythymes.com
Prep Time:
Cook Time:
Total Time:
Ingredients
1¼ cups dried black beans, soaked overnight
6 cups chicken broth
½ white onion, chopped
3 garlic cloves, chopped
2 canned chipotle chiles, seeds removed
1 tsp salt
8 oz. tortilla chips
sour cream, diced avocado, cilantro and cotija cheese for garnish
Instructions
Drain the beans and combine in a large pot with the chicken broth, onion, garlic, chiles and salt. Simmer partially covered until the beans are very tender, about 2 hours. Add water if necessary to keep the beans completely submerged. Let the beans cool.
In batches, puree the beans in a blender, adding more water as needed to create a thin soup like consistency. Taste and season the puree with salt. You may complete this step several days in advance and store in the refrigerator.
Bring the black bean puree to a boil in a large pot. Add the tortilla chips and stir frequently until the chips have softened, but are still a little chewy.
Spoon into a serving dish, garnish and serve immediately.
Photo: Fulton Davenport