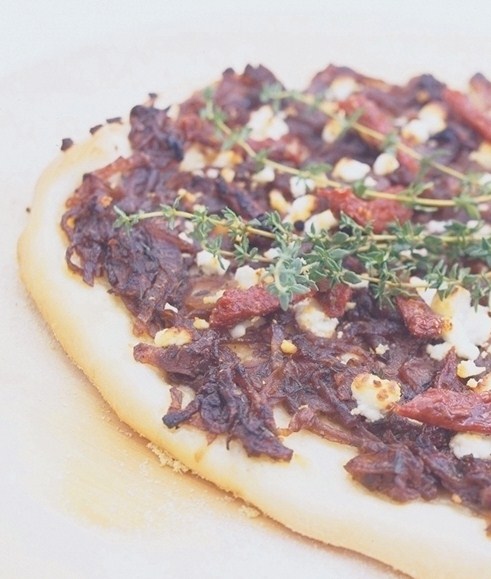 Homemade pizza is really quite easy. I've published my
pizza dough recipe
here and the great thing about it is that it makes enough for 4 pizzas and any remaining dough can be frozen. And while it's easy, it does require some thinking ahead to defrost the dough
and
to preheat the oven and stone at 500 degrees F one hour prior to cooking.
Pizza is a great party idea for kids and adults alike. It's a hands on, participation kind of thing. It's exactly what we did for my daughter's last birthday.
For that event, I purchased a new, larger pizza stone at AceMart, so I'd have one for each oven. I divided the dough into smaller portions so the girls made their own personal pizzas.
And instead of doing the usual cornmeal on pizza peel to slide the pizza onto the stone, we used parchment, which was enormously helpful. The larger stone allowed 2 or 3 personal pizzas per oven, and the parchment made it easy to scoot the pizzas around on the stone to make room for them.
If I were making pizza for an adult or family gathering, I'd get a little more exotic with toppings, maybe some combo of  fontina, sauteed shiitakes and mint or this caramelized onion, sun dried tomato and goat cheese option.
I typically serve Caesar salad with it.  Add some red wine, Italian of course, and you are good to go. Cheers to pizza! -alyce eyster
Caramelized Red Onion & Goat Cheese Pizza
Author:
http://www.culinarythymes.com
Prep Time:
Cook Time:
Total Time:
Serves:
Makes 1 12inch pizza, serves 4
Remember to preheat the oven with pizza stone inside for 1 hour at 500 degrees. No time to make dough? Look for it in the frozen bread section of the grocery store.
Ingredients
1 ball pizza dough
3 Tblsp olive oil
2 large red onions, thinly sliced
3 Tblsp fresh thyme, chopped
¼ cup sun dried tomatoes, chopped
2 oz. goat cheese
salt & freshly ground black pepper
extra virgin olive oil
Instructions
In a large saute pan, warm the olive oil lover moderately high heat and add the onions and thyme. Stir for a few minutes until the onions begin to soften.
Turn down the heat and cook very gently for about 20 minutes until the onions are very soft and sweet. Season with salt and pepper.
Roll out the dough and be sure to sprinkle cornmeal over the pizza peel. Spread the caramelized onions over the entire pizza. Sprinkle on the sun dried tomatoes and crumble the goat cheese all over. Drizzle with olive oil and bake for 8-12 minutes, keeping an eye on it.
photo: fulton davenport