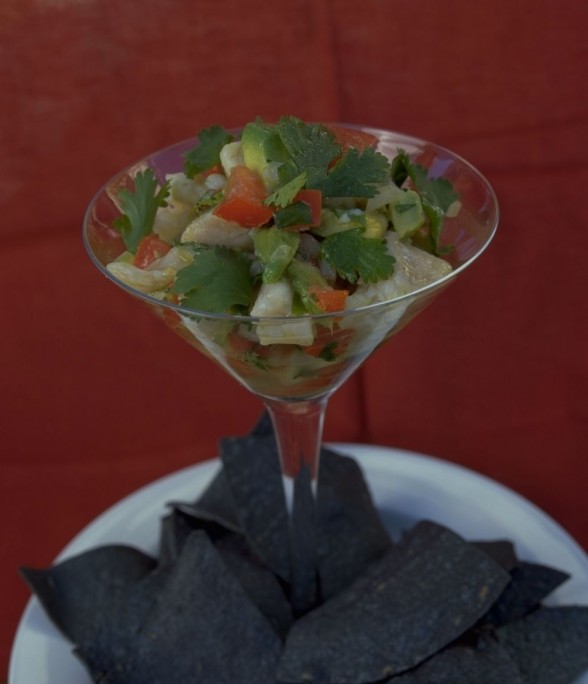 Fish and shellfish are two of my favorites for summertime eating. Not only are they light on the appetite, when featured in a dish like ceviche, no heat is necessary to cook them. This time of year that makes a lot of sense.
This ceviche is easy to put together, just remember to find the freshest fish available and plan ahead for the time it takes to "cook" in the lime juice.
Last week I made this ceviche with fresh-from-the-Gulf, line-caught red snapper. Lime, cilantro, snapper, avocado and a cold beer to wash it down — summer is here indeed. -alyce eyster
photo: fulton davenport
Prep Time:
Cook Time:
Total Time:
Ingredients
1 lb. boneless, skinless red snapper
juice of 6-8 limes
1 small jalapeno, seeded and minced
1 small bunch cilantro, chopped
½ cup chopped white onion
2 tomatoes, seeded & chopped
3 Tblsp olive oil
1 tsp sugar
salt to taste
1 avocado, diced
blue corn tortilla chips
Instructions
Cut the fish into a small dice. Place in a class bowl and pour the lime juice over the fish, using enough to completely cover it.
Refrigerate for several hours until the fish no longer looks raw, about 2-3 hours (no longer than 6 hours).
Drain off the lime juice using a colander and combine the fish with the remaining ingredients (except for the avocado) and season to taste with salt. Add the avocado just before serving.
Serve in a martini glass on a plate with the tortillas chips around the base.