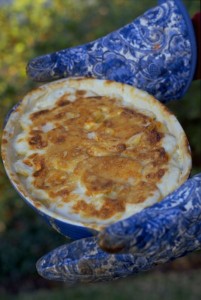 This has to be one of my most requested recipes. And for good reason. It's a crowd-pleaser. (What's not to like with all that cream?) And it's a breeze to make.
In the winter months I like to make it with half sweet potatoes and half russet. Several weeks ago I made this dish for a dinner party using Yukon gold potatoes and I have to say, I really liked the result. These potatoes were a tad creamier, not as grainy as a russet.
You'll have leftovers. I'd say this dish serves more like 8-10. Sometimes I throw in an extra potato or two, if I need to serve more and I always add a few more cloves of crushed garlic, an extra pinch of nutmeg and more Gruyere.

Enjoy! -alyce eyster photo: fulton davenport
Classic Potatoes au Gratin
Author:
http://www.culinarythymes.com
Prep Time:
Cook Time:
Total Time:
For Sweet Potato Au Gratin, use 1 pound russet or yukon gold potatoes and 1 pound sweet potatoes.
Ingredients
2 lbs. Yukon Gold or russet potatoes, peeled
3 cups heavy cream
1 tsp salt
⅛ tsp freshly ground black pepper
pinch of freshly grated nutmeg
2 cloves garlic, peeled and smashed
1 cup Gruyere, shredded
Instructions
Preheat oven to 400 degrees F.
Slice the potatoes into ⅛ inch thick slices.
Place the sliced potatoes in a large saucepan with the cream, salt, pepper, nutmeg and garlic. Gently bring the mixture to a boil. Stir the mixture occasionally, being careful not to break the slices.
When the cream boils, pour the mixture into a 3 quart baking dish. Sprinkle the surface with the shredded Gruyere. Place the baking dish on a cookie sheet to catch any overflow during cooking.
Bake for 40 minutes, or until the top is golden brown, the cream has thickened and the potatoes are very tender when pierced with a knife.
Let the potatoes cool for about 15 minutes before serving.