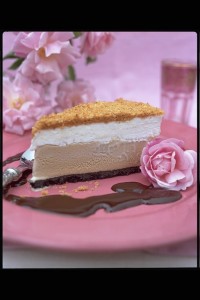 It's getting hot in here. Time for…chilly, ice cream desserts! This one's a winner. Enjoy. -alyce eyster
Coffee Ice Cream Cake with Chocolate Sauce
Author:
culinarythymes.com
This easy-to-prepare sake may be made up to 3 days ahead. Store it in the freezer wrapped in plastic and covered with foil. You may also prepare the sauce ahead of time and gently reheat it in a double boiler for service.
Ingredients
2 cups Famous Chocolate Wafers (or Oreo cookie) crumbs
cup unsalted butter, melted
1½ qts. coffee ice cream, softened
cup Kahlua
1 cup heavy cream
1 tsp vanilla
cup powdered sugar
1 cup amaretti (almond cookie) crumbs
Sauce:
6 oz. semi-sweet chocolate, chopped
cup heavy cream
2 tsp instant espresso powder
Instructions
Lightly oil a 10-inch spring from pan. Combine the chocolate cookie crumbs and the butter, press them into the bottom of the pan and freeze for 30 minutes.
In a food processor, blend the ice cream with the Kahlua until creamy and smooth. (You may have to do this in two batches.) Spread the ice cream into the pan and freeze until firm.
In a bowl of a standing mixer, whisk the cream until soft peaks form. Whisk in the vanilla and powdered sugar. Spread the whipped cream on top of the ice cream and finish by sprinkling the amaretti crumbs on top. Freeze until firm or until service.
When ready to serve, remove the pan from the freezer and wrap a hot, damp towel around the sides to loosen. Remove the pan rim and slice with a knife run under hot water. Serve with a drizzle of chocolate sauce.
For the sauce, place the chocolate in a heatproof bowl. Bring the cream to a boil and pour over the chocolate. Stir until the chocolate has completely melted and is smooth. Add the espresso powder and stir to combine. Serve hot.