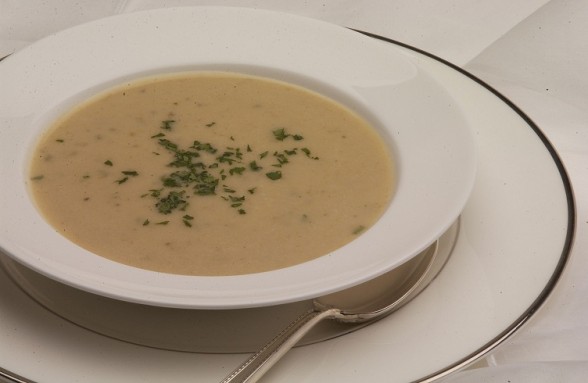 Hurry, while it is still cold, make this soup.
This recipe's flavor profile combines caramelized onions with potatoes, Parmesan and a bit of cream. What's not too like?
I think the soup is rich enough to pair with a  green salad and good bread to make a meal. And I suggest serving with an acidic wine like a sauvignon blanc to offset the cream.
Stay warm and cozy this winter, and enjoy! -alyce eyster
Photo: Fulton Davenport

Caramelized Onion & Potato Soup with Parmesan
Author:
culinarythymes.com
Prep Time:
Cook Time:
Total Time:
Ingredients
2 Tblsp olive oil
2 cups chopped yellow onion
8 cloves garlic, smashed
1½ tsp salt
½ tsp freshly ground black pepper
2 tsp chopped fresh thyme
2 bay leaves
1 large baking potato, peeled and chopped
2 quarts chicken broth
½ cup heavy cream
½ cup grated Parmesan
chopped Italian parsley to garnish
Instructions
In a large pan, heat the olive oil over medium-high heat. Add the onion, garlic, salt and pepper, thyme and bay leaves and saute for 15 minutes until the onions are soft and golden. Be sure to stir frequently.
Add the potato and chicken broth and simmer gently for 1 hour. Let the soup cool slightly, remove the bay leaves and puree in a blender. Return the soup to the pan and stir in the cream and Parmesan. Serve hot and garnish with the chopped parsley.