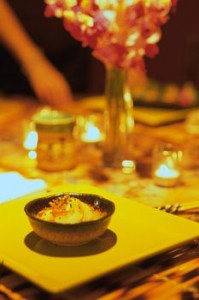 Cucumbers are amazingly refreshing, especially this time of year. In fact they are 96% water, so no wonder.
Just the other night I made a very lovely and easy cucumber soup from Food & Wine. I've published other cucumber soup recipes made with buttermilk and yogurt, but this one had only a bit of yogurt as a garnish and was more like a cucumber gazpacho. I liked the addition of mint, which is thriving in the kitchen garden.
Here's a recipe for a cucumber salad with Asian accents. This recipe balances the cool that cukes are known for with a touch of heat from the Szechwan peppers.
And here's an article I wrote for the Dallas Morning News several years ago with more cuke recipes. Stay cool with cukes! -alyce eyster
Author:
culinarythymes.com
This refreshing salad is best when served chilled.
Ingredients
2 lbs. cucumbers (preferably English hot house), peeled and sliced thinly
1 Tblsp fresh ginger, minced
2 Tblsp garlic, minced
1 tsp Szechwan peppercorns
2 tsp soy sauce
4 Tblsp rice wine vinegar
6 Tblsp sugar
2 Tblsp corn oil
2 tsp sesame oil
salt
Instructions
Salt the cucumbers and set aside for 30 minutes. Drain, rinse and pat dry.
Warm the corn and sesame oils in a wok or saut? pan and saut? the ginger, garlic and peppercorns until fragrant, about 10 seconds. Do not brown.
Add the cucumbers, toss to combine. Add the soy sauce, rice wine vinegar and sugar. Stir until liquid steams and remove form heat.
Place the cucumbers and sauce in a shallow dish and refrigerate overnight.
Notes
Photo: Fulton Davenport