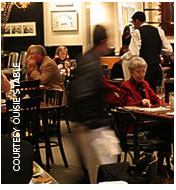 La Duni Latin Kitchen & Baking Studio
La Duni is a favorite, a winning combination (in our minds) that includes a top notch mojito, great wines, fab offerings from the kitchen and of course Pastry Chef Dunia Borga's to-die-for pastries, all in a casual, sophisticated setting. The Latin inspired menu features calamari with ali-oli, empanadas, South American style steaks and yummy sandwiches like the Slow Roasted Lomo. Expanding all over the place with locations at Terminal D in DFW and opening soon at Northpark Mall. Those frequent travelers outside of Dallas — pray for a long layover at DFW!
4246 Oak Lawn
Highland Park, TX 75219
214.520.6888
www.laduni.com
Stephan Pyles
The Stephan Pyles website says that the famed Dallas restaurateur introduces New Millennium Southwestern Cuisine with flavors from Texas, South America, Spain, the Middle East, and the Mediterranean. As paella purists, we were a tad curious about the joja santa wrapped salmon atop crabmeat paella, but report back that it was de-lish and we'd order it again. (Besides, who are we to question a founding father of Southwestern cuisine..) Love all the seafood at Stephan Pyles, specially the ceviche sampler. Never fear, meat lovers ? there's plenty of flesh on the menu ? Chile Braised Osso Bucco, Coriander-Cured Rack of Lamb, Bone-In Cowboy Ribeye and more. As for dessert, still dreaming about Coffee and Doughnuts. Don't miss it. SP's made a successful leap from 80′s style Southwestern.
1807 Ross Avenue, Suite 200, Dallas, TX
214.580.7000
www.stephanpyles.com
Zorba's Greek Cafe
I'm always thrilled to find a family friendly, independent, non-chain restaurant with delicious food. We found that in Zorba's. Loved the Meze platter, especially the tzatsiki and taramosalata. So good I was having trouble showing restraint. Moussaka made with beef was excellent, as was pastitsio. The husband like the lamb. Zorba's is BYOB.
1501 Preston Road
Plano, TX 75093
972.250.0062
www.zorbasplano.com