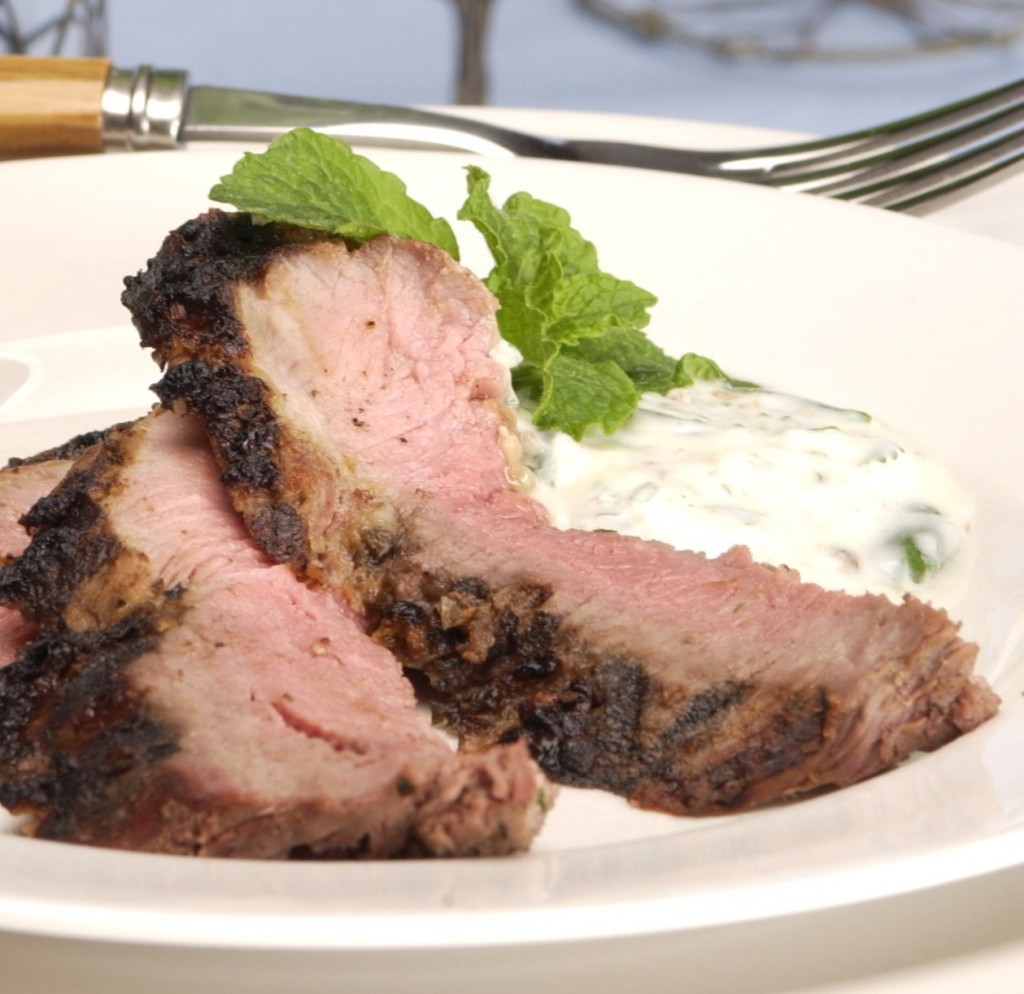 For me, the Easter table is not complete without lamb on the menu. And this recipe allows you to get outside and grill to boot. A couscous salad would make a nice, easy side for this recipe. (To cooked and cooled couscous, simply add halved grape tomatoes, chopped cucumber and feta. Dress it with olive oil, lemon juice and season with salt and pepper.) Be sure to get some pita bread, because the next day all of this can be stuffed inside for a yummy pocket sandwich.
As for wine, wine contributor Russ Kane, blogger at
vintagetexas.com
recommends
McPherson Cellars
Texas Red Table Wine, Tre Colore 2010
. A blend of three Rhone varietals, hearty red Mourvedre and Carignan and aromatic white Viognier, this medium bodied wine offers rich red berry flavors comingled with exciting notes of charcoal, tea and fragrant herbs that combine with the scent of grilling spices.
Enjoy! – alyce eyster
Spiced Grilled Leg of Lamb with Yogurt Sauce with It
Author:
http://www.culinarythymes.com
Prep Time:
Cook Time:
Total Time:
Ingredients
1 (4-5 lb.) leg of lamb, butterflied
Yogurt Sauce:
3 cups plain yogurt
1 handful fresh cilantro, chopped
1 handful fresh mint, chopped
2 Tblsp minced garlic
2 Tblsp coriander seeds, ground
juice of 1 lemon
salt & freshly ground black pepper
Instructions
Place the lamb in a large plastic freezer bag. In a medium bowl, combine all of the yogurt sauce ingredients.
Reserving 1 cup of sauce for serving with the lamb, use the remaining sauce as a marinade for the lamb. Pour the remaining yogurt sauce into the bag of lamb, close and rub it all around to ensure ample coverage.
Refrigerate for 6 hours or over night.
Let the lamb sit at room temperature for 30 minute before cooking. Season with salt and pepper just before grilling.
Prepare the grill, making sure it is clean and oiled before placing the lamb on top. You should only need to cook the lamb for about 10 minute per side. You want the meat to be medium rare with a nice pink interior.
Let the lamb rest for about 10 minutes before carving. Season the reserved sauce with salt and pepper and serve with the lamb.
Photo: Fulton Davenport