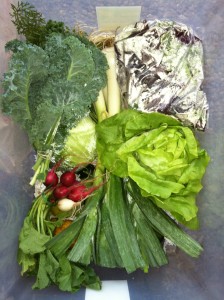 I love going to the Farmer's Market on the weekend. But the reality is that my kids' sports schedules often make getting there by noon on Saturday a challenge.
Enter Farmhouse Delivery, a service that, for a weekly or bi-weekly fee, will bring the market to you in the form of a hand selected bushel of local, organic produce delivered right to your (home or office) door. As I read about it in a local publication,  I thought it sounded right up my alley.
I like the idea of eating what's in season and supporting local farmers. And I was excited about working these veggies into my weekly menu, trying some new recipes, and flexing my creative and culinary muscles. So I signed up.
Saturday was the first delivery of my membership to Farmhouse Delivery. Leeks, butter lettuce, radishes, kale, greens, cabbage, oranges, carrots, zucchini and more filled the bushel. The wheels began to turn as I pondered menus and recipes for the week. Should I try the spice rubbed, roasted carrot recipe I found online last week? The pizza rustica with the greens? Easy grilled zucchini with fresh herbs from my garden?
Then Sunday morning I get an email detailing what was in the bushel, the farm that grew it, how to store it and suggested recipes. Wow!
I was inspired by the Warm Chevre and Swiss Chard Tart mentioned in the email, but went in a slightly different direction to make it egg-free for my youngest, who is allergic. I made my favorite tart crust from a 1995 Gourmet. I sauteed the leeks from the bushel and put those in the bottom layer of the prebaked tart shell. I topped that with chopped greens that had been wilted in olive oil with a pinch of nutmeg and a few currants. Then I sprinkled it all with Gruyere, and baked it for 30 minutes.
I think going meatless begs for bread and cheese to make a meal more substantial. In addition to the tart, our meatless dinner consisted of salad, kale chips (which everyone loved) and a Slow Dough baguette crouton with goat cheese spread atop.
I'd added the baguette to the original order online. Members are given the option to select meat, eggs, dairy, even prepared foods to add to each delivery.
Farmhouse Delivery was started in Austin by chef Elizabeth Winslow and grower Stephanie Scherzer, and recently expanded to Houston. From the way the produce was carefully placed in the bushel to the informative email with recipes, these women have put a lot of thought and care into Farmhouse Delivery. I couldn't be more pleased. -alyce eyster
Favorite Butter Pastry Dough
Prep Time:
Cook Time:
Total Time:
yields crust for (1) 12 inch tart. Inspired by a recipe from Gourmet, 1995. Dough may be made 1 week ahead and chilled. Great with savory fillings, but also chocolate!
Ingredients
2 cups all purpose flour
1½ tsp salt
1½ sticks unsalted butter, cut into bits
6-7 tablespoons ice water
Instructions
In the bowl of a food processor, combine the flour and salt, and give it a quick spin.
Add the butter and process until the mixture looks like coarse meal.
Add ice water by the tablespoon, mixing after each addition, until the dough begins to come together.
Pour contents into a large bowl, shape into a ball, then flatten to a disk. Wrap in plastic wrap and chill for at least an hour, before using.
Roll out the dough on a floured surface, until it is about an inch larger than tart pan. Using a pastry scraper gently fold half the dough over and slide the tart pan underneath. Gently mold the dough into the tart pan, trimming the edges if necessary or folding them into the edge. Fill and bake in a preheated 375 degree oven for about 1 hour, depending on the filling.
(To prebake, spray a piece of foil with cooking spray and lightly press, sprayed side down, into the tart pan. Fill with pie weights or beans and bake in a preheated 375 degree oven for 30 minutes.)