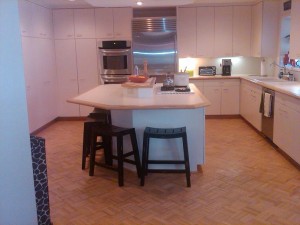 The microwave and I are spending more and more time together lately, thanks to my kitchen renovation. In the old kitchen, I really only used it to reheat. (Here's a "before" shot of the old kitchen.)
But my little friend is capable of so much more! Here are some things the microwave is ideal for:
->Cooking bacon — Many will disagree, but I prefer to cook bacon in the microwave. Why? There's less mess. Keep a watchful eye on it though, because you can easily overcook it. Just place it in a Pyrex dish and cover with a paper towel. Nuke roughly 1 minute per slice.
->Healthy popcorn — In college I had one of those air-poppers to pop corn with no oil. Did you know you can make healthier microwave popcorn in a brown paper lunch bag? Simply place no more than 1/4 cup corn in a paper lunch bag. Fold down the top and place on its side like traditional microwave popcorn. Cook about 2 minutes, keeping in mind that all microwave ovens cook differently.
->Cooking potatoes for potato salad  No more boiling! Really.
->Steaming vegetables like broccoli or edamame. (I've tried those steam-in-a-bag jobs and they are an easy, fast "cheater" item for a weeknight dinner.)
Here's what I've learned to do:
->Make pasta. This one took a few tries, but thanks to the instructions on a box of mac and cheese I figured it out. The key is to get the water to a boil first. I used a porcelain Apilco souffle dish. I filled it 2/3 full of water and cooked it until it began to boil (about 5 minutes), then I added the pasta and cooked, uncovered, for about 5 minutes more. (This was huge because the hot plate was taking 30 minutes to bring water to a boil.)
->Cake. Who knew you could make a cake in the microwave? I've enjoyed experimenting with this single serving Chocolate Mug Cake from the blog Diethood.
Here's a recipe for an easy microwave pasta dish I made last night. It is loosely based on a Nigella Lawson recipe found in her book Nigella Bites. Nigella doesn't use the microwave in her version, however. 🙂

Farfalle with Bacon and Garlic Oil
Author:
http://www.culinarythymes.com
Prep Time:
Cook Time:
Total Time:
Ingredients
8 oz. farfalle (bowtie) pasta
2 slices bacon, cut with kitchen scissors into ½" inch pieces
2 Tblsp garlic oil
salt to taste
parmigiano-regiano, grated
Italian parsely, minced
pinch red pepper flakes (optional)
Instructions
Fill a 2 quart capacity, microwave-safe bowl about ⅔ full with water. Nuke in the microwave until boiling, about 5 minutes. After it comes to a boil, carefully add pasta and cook another 5-6 minutes. Remove and drain.
In a Pyrex dish, cover bacon with a paper towel and nuke about 2 minutes, until cooked. Remove from microwave, add the pasta, garlic oil, salt and toss. Top with grated parmigiano and gently toss again. Serve sprinkled with Italian parsley and a pinch of red pepper flakes.
And one last tip: the microwave is great to heat a small wet towel for sports injuries or sore muscles. Do you have any microwave tips or recipes? If so, I invite you to share them below.
Have a great weekend. -alyce