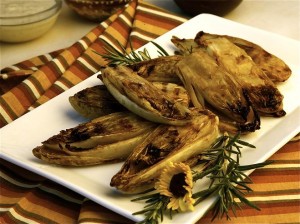 Now here's something fun and interesting to try: grilled endive.
It's easy too. Simply split the heads in half lengthwise, soak in the marindade and grill.
And be sure to check out http://www.endive.com for instructional videos and lots of good info.
Enjoy your weekend!
-alyce
Grilled Endive with Balsamic Rosemary Marinade
Author:
Recipe & photo: California Vegetable Specialties/Endives
Prep Time:
Cook Time:
Total Time:
Ingredients
6 heads endive (red, white, or a combination), halved lengthwise through the root end
For the marinade:
6 tablespoons olive oil
2 tablespoons balsamic vinegar
2 tablespoons maple syrup
2 teaspoons dried lavender flowers (optional)
3 cloves minced garlic
1½ teaspoons chopped fresh rosemary
¾ teaspoon coarse kosher salt
½ teaspoon freshly ground black pepper
Instructions
In a large non-metallic bowl, whisk together the marinade ingredients. Add the endive and toss. Set aside at room temperature to marinate, stirring occasionally, for 30 minutes.
Prepare a grill to medium heat and lightly oil the grate. Grill the endive cut side down until lightly charred, 3 to 5 minutes depending on your grill. Turn, brush with any remaining marinade, and cook until crisp-tender and lightly charred, 3 to 5 minutes depending on your grill. Serve warm.