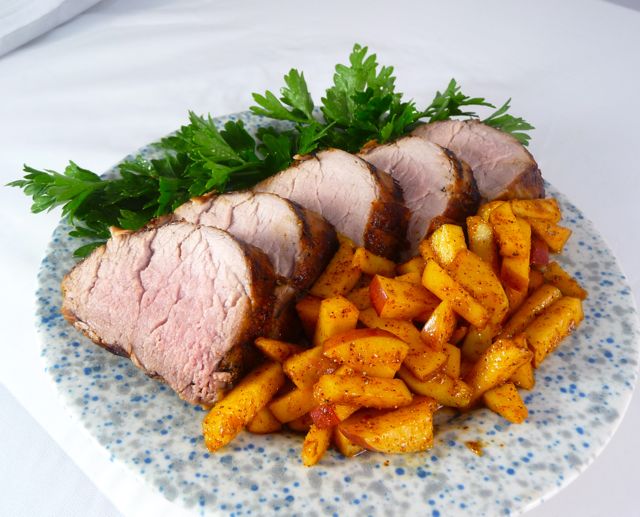 Get ready for grilling. Though we do it pretty much year round in Texas, the Memorial Day holiday marks the beginning of grilling season.
What's so great about it? Grilling is a quick, flavorful and low-fat way to cook. Plus it's just plain fun to gather around the grill, cold beverage in hand.
These recipes come courtesy of Stevia in the Raw and use the no calorie, natural sweetener in place of sugar. Stevia gets its sweetness from Rebiana, an extract of the Stevia plant which is native to South America.
And if this weekend will be your first time since last Labor Day to grill, be sure to clean the grates with a grill brush, then brush them with oil before you heat up the grill. Also, remember that it's ok for pork to be a little pink.
Pork Tenderloin with Chili Apple Salsa
Author:
Photo & recipe: Stevia in the Raw
Prep Time:
Cook Time:
Total Time:
Marinating the pork briefly in a garlic-and-herb paste gives it aromatic flavor. Apples and pork, always a good pair, get a Latin kick from the hot, crunchy salsa.
Ingredients
2 large garlic cloves
1 teaspoon kosher salt
1 tablespoon fresh oregano leaves, or 1 teaspoon dried
1 large pork tenderloin, about 1 pound, well-trimmed
For Salsa:
1 large Fuji apple, quartered, cored, and chopped
½ teaspoon chili powder
½ teaspoon ground cumin
½ teaspoon salt
¼ teaspoon ground black pepper
¼ teaspoon ground cayenne pepper
1 packet STEVIA EXTRACT IN THE RAW®
1 tablespoon canola oil
1 tablespoon fresh lime juice
Instructions
On cutting board, sprinkle garlic with the salt and oregano and chop until mixture looks moist. Holding knife so blade is horizontal, press it against garlic mixture and drag to smear it. Bringing mixture back together, repeat 3-4 times, until it is lumpy paste.
Pat tenderloin dry, using paper towel. Spread to coat it with garlic paste. Place meat on plate, cover loosely with foil, and set aside for 20 minutes.
Heat grill to medium-low, 350° F for gas grill. While grill heats, combine apple, chili powder, cumin, salt, black pepper, cayenne, and STEVIA IN THE RAW in mixing bowl. Mix in oil, then lime juice. Set salsa aside.
Wipe meat with paper towel to remove as much garlic paste as possible. Set pork on oiled grill rack over direct heat, and cover grill. Rotate tenderloin every 4-5 minutes until instant-read thermometer reads 150° F, or meat is slightly pink and still juicy in center, about 20 minutes. Transfer tenderloin to plate, tent loosely with foil, and let sit for 5 minutes.
Slicing across grain, cut tenderloin into 12 pieces. Arrange meat on serving platter, spoon salsa alongside, and serve immediately.
Notes
Per serving: 210 calories, 8 g fat (1.5 g saturated fat), 9 g carbohydrate, 20 g protein, 1 g dietary fiber, 880 mg sodium.
I suggest serving a syrah or your favorite microbrew with this dish. Enjoy! -alyce eyster