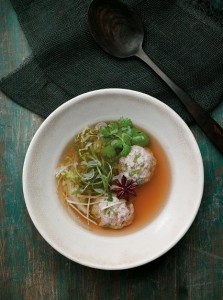 [Editor's Note: I am thrilled to host spice expert John Gregory-Smith in today's guest post. John is the author of the new Mighty Spice Cookbook, where this recipe is featured. Enjoy his Chinese Pork Dumpling Soup that explodes with the flavors of cilantro, ginger and star anise. -alyce eyster]
Delicious Soup and Spices for the Fall Season

by John Gregory-Smith
With the start of the fall upon us, comes colder weather and darker evenings. It is the perfect time to put a bit of spice in your life, with my warming Chinese Pork Dumpling Soup.
Spices are my favorite ingredients – they can transform a dish from the mundane into something truly extraordinary. Using a few dried or fresh spices can add a real depth of flavor, warmth and fragrance to a meal. But, at the same time, you can use them to make something simple, fast and fresh, that's why I love them!
My new book, Mighty Spice Cookbook, is an introduction to cooking with spices. Forget complicated recipes that use a whole bunch of hard to find ingredients, mine rely on a few key spices and easy to get ingredients.  In fact, I have only used a maximum of five spices per recipe, which includes garlic and chili, so everyone can give them a go. My recipes have been inspired by my travels all over the world – there really is something for everyone.
The recipe below is super healthy, delicious – simple cooking at its best and I promise you will love it as much as I do!  This easy soup relies on ginger and garlic, which I am guessing most of you know and the addition of star anise. Star Anise is a beautiful, dried, flower-shaped spice, which hails from China and has a wonderfully fresh aniseed flavor. It really lifts this simple soup into something you will want over and over again. Do try adding some cooked whole-wheat noodles into the soup, before you serve, to make more of a hearty meal for those gusty fall evenings.

Chinese Pork Dumpling Soup
Author:
John Gregory-Smith author of Mighty Spice Cookbook
Prep Time:
Cook Time:
Total Time:
Ingredients
For the dumplings:
9 ounces ground pork
1-inch piece gingerroot, peeled and finely grated
2 scallions, finely chopped
1 teaspoon light soy sauce
1 teaspoon sesame oil
For the soup:
5 cups chicken stock
2 star anise
2-inch piece gingerroot, peeled and roughly sliced
1 garlic clove
4 scallions, cut into thin batons
3 cups shredded Chinese leaf lettuce
1 large handful cilantro leaves, roughly chopped
1 tablespoon soy sauce
Instructions
To make the dumplings, put all the dumpling ingredients in a large mixing bowl and mix well, using your hands to mash everything together. Make sure all the ingredients are evenly distributed to guarantee maximum flavor. Cover and set aside 30 minutes to let the flavors develop, or overnight in the refrigerator if time allows.
Meanwhile, pour the stock into a large saucepan and add the star anise, ginger and garlic. Bring to a boil over high heat, then cover, reduce the heat to low and simmer 10 minutes.
Pull off a golf ball-size piece of the pork mixture and roll it into a smooth dumpling using the palms of your hands. Set aside and repeat until all of the pork mixture is used. You should get about 8 dumplings.
Using a slotted spoon, carefully drop the dumplings into the saucepan with the spiced stock. Add the scallions, Chinese leaf lettuce, cilantro and soy sauce and gently mix everything together. Bring to a boil, then turn the heat down to low and simmer 8 to 10 minutes until the pork dumplings are cooked through and beautifully tender. You can cut one open to test.
Serve immediately so the greens stay lovely and fresh.
In 2006, John Gregory-Smith launched his own spice brand, Mighty Spice.  The brand consisted of three fresh spice pastes that could be used as a marinade or base for a sauce. In 2009, he decided to put that business on hold to expand his knowledge of spices even further. He has travelled all over the world in search of the perfect recipes visiting such far off locales as South East Asia, India, Sri Lanka, the Middle East and Mexico. He incorporated all of his experience and knowledge in this first cookbook – The Mighty Spice Cookbook. He has written recipes and spice features for brands, magazines and websites including Bacardi, Men's Health and GQ.com and just filmed a guest spot on a new Good Food series – Perfect.  More information about Mighty Spice Cookbook and John Gregory-Smith can be found on the website: www.johngregorysmith.com and his TV pilot on http://www.johngregorysmith.com/Site/TV.html. Mighty Spice Cookbook can be purchased in store at Barnes & Noble and online at www. Amazon.com, www.BarnesandNoble.com and www.Walmart.com
From Mighty Spice Cookbook © Commissioned Photography by William Lingwood / Duncan Baird Publishers 2011