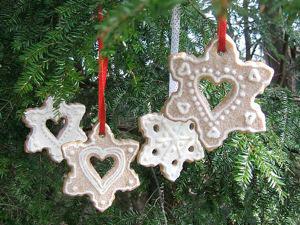 Maybe it's the season, but I've had a serious spice craving since Thanksgiving: pumpkin pie, cinnamon, ginger and cardamom. I love cardamom and one of my favorite ways to enjoy it is in a Mango Lassi.
So I was thrilled to receive this recipe from Ann Clark Ltd, makers of adorable cookie cutters in tin and copper. The Cardamom Cookies cut as snowflakes double as Christmas ornaments. How cute is that?
You name it and Ann Clark probably has it. I particularly like the contemporary line which is nicely packaged and would make a great gift or party favor.
As for the holidays and the inevitable shopping, I invite you to get it done online! There's still time. I've posted some links to some of my favorite sites below:   Amazon
(where you can get cookbooks, cooking tools and pretty much anything else!), SpaFinder (where you can get gift certificates to spas around the country and who doesn't love a spa day!), Red Envelope (great, quality gift items plus nice food gifts), and Chefs Catalog for cooking tools.
So start your shopping by clicking below and yes, I do receive a tiny commission if you purchase something. Also, check out my Store/Favorites page where you can purchase cookbooks I've written about and other favorites, like cooking tools and specialty foods. (Shameless plug

, I know!) Happy holidays! -alyce eyster
Author:
Recipe and photo courtesy Ann Clark Ltd.
Prep Time:
Cook Time:
Total Time:
Cardamom is a pungent spice, available as whole pods, whole seeds, or ground seeds. For this recipe, the seeds should be ground very fine so it's best to buy preground cardamom, but make sure it is fresh. Great shapes for Cardamom Cookies are the Snowflake cookie cutter, the Ornament cookie cutter, and the Bell cookie cutter. They are available at www.annclark.com.
Ingredients
1 cup unsalted butter, softened
½ cup light brown sugar
¼ cup granulated sugar
1 large egg yolk
½ teaspoon vanilla extract
2½ cups all-purpose flour
1 teaspoon ground cardamom
½ teaspoon baking powder
½ teaspoon salt
Royal Icing:
1 lb. confectioners sugar
3 Tblsp meringue powder
6 Tblsp warm water
Instructions
Beat butter and sugars until fluffy.
Add egg yolk and vanilla extract and mix until completely incorporated.
Whisk together flour, cardamom, baking powder and salt, add to mixture and combine until well-blended, but do not over-mix. Chill dough for 3-4 hours before rolling.
Preheat oven to 350º. Roll dough out on a lightly floured counter to ¼-inch thickness and cut, then transfer cookies onto cookie sheets that have been lined with parchment paper or silicone liners.
Cut decorative patterns in the cookies if desired. Using a pastry brush, brush each cookie lightly with water, then sprinkle with the cinnamon sugar mixture.
Bake 10 to 12 minutes, until lightly colored. Let cookies cool slightly on cookie sheets, then transfer to a wire rack to cool completely. Frost, if desired, with royal icing.
Combine the ingredients for the royal icing. Mix on medium speed for 5 minutes. (Note: This makes an icing the right consistency for piping; for "flooding" (filling in the cookie after piping around the border), add water a little at a time to achieve a pourable consistency, like heavy cream.)