Hey there, friends!
I am thrilled to announce that my second course with Highbrow, How to Adopt A Flexitarian Lifestyle, has launched. This one's all about becoming a part-time vegetarian, where you get all the benefits of eating tons of veggies, yet get to indulge in steak every now and then.
Highbrow is a fantastic e-learning profile where you get a 5 minute lesson delivered to your inbox everyday for 10 days. Choose from health related classes like mine, or other topics that range from business to technology to history and more.  These are just a few of many courses available on the site. Check it out here.
My first course, 10 Days to Better Wellness, is all about easing into a healthier lifestyle and contains information and tips and encourages small changes to feel better.  Creating both courses was a fantastic exercise in sitting down daily to research and write. I learned so much and even though some days and chapters were more challenging than others, I enjoyed it.
And great news — Highbrow is currently offering a free 30 day trial. So go forth and learn, people!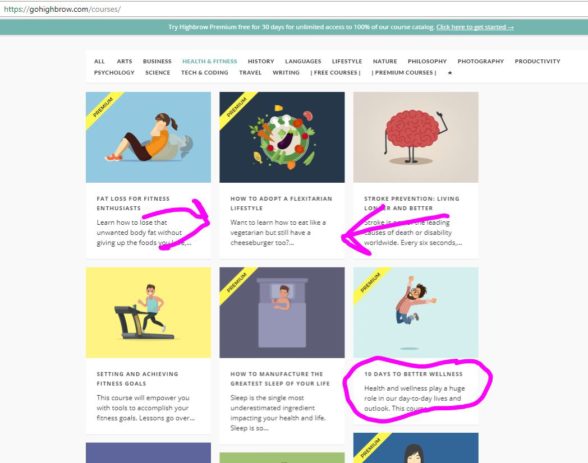 Also, this healthy lifestyle thing is something I am really interested in and I really do live by the themes I write about in these courses (for the most part ;-). So I am consolidating these classes, ideas, information and tips on social media as Nudge Wellness. I will be offering quality health and wellness related content on these social sites, so I invite you to join me if that is something you are interested in as well.
Stop by, follow and say hi on:
Anywhoozle, have a fantastic week!
Alyce