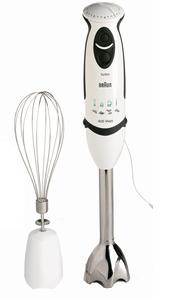 Gotta Have It
What did we do before the immersion blender? Pureed soups in painstaking blender batches, thats what we did. Another favorite tool, we use the immersion blender to make creamy salad dressings and alioli, puree soups (on the stove and in the pot), even froth hot sipping chocolate. This tool is a must have. The Braun Immersion Blender here is $69.95.
To purchase click here – www.surlatable.com.
Braising Tools
If you don't already have one (or need another), the cookware of choice for the lamb braise in Menu of the Month is a Dutch oven. We braise in cast iron, and Sur  La Table has a number of options — enamel, cast iron, copper and more — that will work. Le Creuset's Round French Ovens ($69.95-$350) are available in a wide range of sizes and colors. There's a beautiful copper casserole with a lid for $199. And for something a little more affordable, check out the Lodge Logic 5 Quart Cast Iron Dutch Oven for $42.95.
To purchase click here – www.surlatable.com.