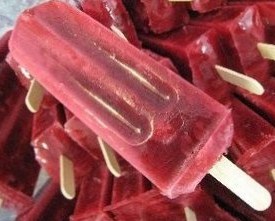 Must have been my lucky day! Recently I received a sampler package of GoodPop All-Natural Frozen Pops.
Good Pops are creatively flavored paletas made with fresh fruit and organic, locally sourced, all natural ingredients.
I loved the flavor profile of the Hibiscus Mint and Banana Cinnamon popsicles. They reminded me of  the innovative ice cream flavor trend applied to a popsicle.
My kids liked coffee and watermelon, and the middle schooler liked Hibiscus Mint, too.
Another great thing about these pops is that they are made right here in Houston. Look for them in Houston and Austin at Whole Foods Market.
Photo: GoodPop All-Natural Frozen Pops