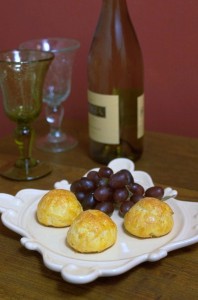 I love gougeres, those yummy, cheesy puffs rife with gruyere.
Don't be fooled, these savory bites are easy to make. And they pair swimmingly with your favorite wine as a precursor to a meal.
As the recipe says, they can be stuffed with sauteed mushrooms or chicken salad, for a heartier snack. Enjoy! -alyce eyster
Photo: Fulton Davenport
Prep Time:
Cook Time:
Total Time:
Ingredients
8 tablespoons butter, cut into pieces
¾ cup milk, divided
salt and freshly ground white pepper
1 cup flour
4 eggs, at room temperature
1-1/2 cups grated gruyere, divided
Instructions
Preheat oven to 400 degrees F.
Combine butter, ½ cup milk and ½ cup water in a medium saucepan over high heat.
Season generously with salt and pepper.
Bring to a boil; when butter has melted, remove pan from heat.
Add flour all at once and stir vigorously with a wooden spoon until mixture forms a thick dough and pulls away from the sides of the pan, 1-2 minutes.
Return pan to heat for 1 minute, stirring constantly.
Remove from heat.
Let dough cool to room temperature, then beat in eggs, one at a time, making sure each egg is completely incorporated into mixture. Dough should be thick, shiny and smooth.
Add one cup of the cheese and beat in until well combined.
Using a pastry bag or spoon, put tablespoon-size mounds of dough on lined baking sheet, leaving about 1″ between each.
Brush tops with remaining ¼ cup milk, then sprinkle with remaining ½ cup cheese.
Working in batches, bake in lower third of oven until doubled in size and golden, 20-25 minutes.
Serve warm or at room temperature.
Notes
Gougeres can be filled with chicken salad, mushroom duxelles, sliced ham and grated gruyere, goat cheese and tapenade.