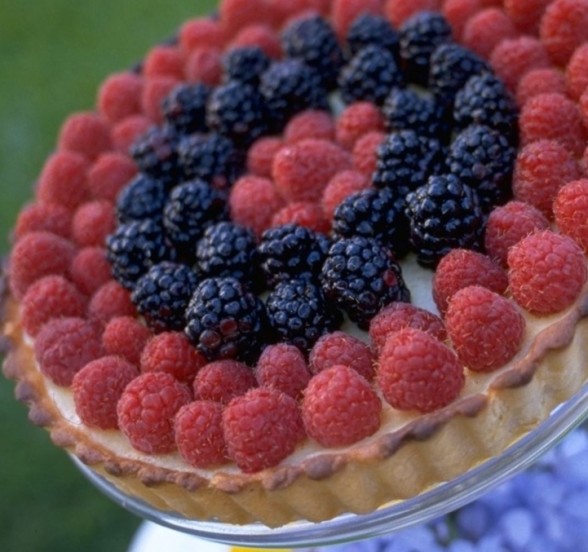 One of my favorite things about summer is berries.
Blueberries, blackberries, raspberries — I love them all. They are so easy to pop into the mouth, a mini explosion of flavor to follow.
Here's a recipe for a lovely little lemon cream tart. If you happen to find golden raspberries, they would make a pretty presentation as well.
School was out today for us, so happy summer!
-alyce eyster
photo: fulton davenport
Lemon Cream Tart with Summer Berries
Author:
culinarythymes.com
Prep Time:
Cook Time:
Total Time:
Ingredients
Dough:
1 cup plus 2 Tblsp all purpose flour
¼ cup sugar
¼ tsp salt
7 Tblsp cold unsalted butter, cubed
1 egg yolk
1 Tblsp ice water
Filling:
3 oz cream cheese
2 oz. mascarpone
3 large eggs
6 Tblsp heavy cream
5 Tblsp fresh lemon juice
1 tsp grated lemon zest
¼ cup sugar
pinch salt
1 pint raspberries
1 pint blackberries
Instructions
To make the dough: In a food processor, combine the flour, sugar and salt. Add the butter, pulsing intermittently until the mixture forms coarse crumbs.
Mix the yolk and ice water in a small bowl. Add to the flour mixture and pulse just until the dough begins to clump together. Roll the dough out into a circle large enough to line a 9 inch tart pan with removable sides. Line the pan with the dough, trim the edges and prick all over with a form. Refrigerate for 30 minutes.
Preheat oven to 425 degrees F.
Line the dough with aluminum foil shiny side up and fill with raw beans or pie weights. Bake for 20 minutes with the foil or until the crus is set. Remove the foil and bake until the crust is pale golden all over, about 20 more minutes. If the crust bubbles, push it down with a fork and continue baking.
To make the filling, cream the cream cheese and mascarpone in a mixer using the paddle attachment. Add the eggs one at a time and combine thoroughly.
Add the heavy cream, lemon juice and zest, sugar and salt. Mix until mixture is smooth. Pour the lemon cream into the tart shell and bake for 20 to 25 minutes, until set.
When the tart is cool, decorate the top with the fresh berries. This tart is best served the day it is made.