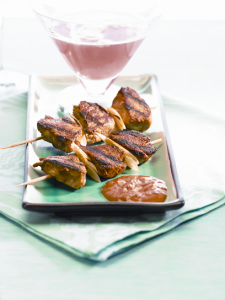 I love the flavors in this recipe. It is written as an appetizer, but simply serve with some jasmine rice and a salad for an easy entree. Enjoy.

Lemongrass Pork Satay with Peanut Dipping Sauce
Author:
Peanut Dipping Sauce courtesy Dorothy Huang
Prep Time:
Cook Time:
Total Time:
Photo by Mary Herrmann. Food and prop styling by Julie Hettiger
Ingredients
1 tsp fish sauce
1 tsp sugar
1 tsp curry powder
½ tsp ground turmeric
pinch garlic salt
2 Tblsp coconut milk
2 Tblsp vegetable oil
1 stalk lemongrass, grassy leaves thinly sliced
1 (1 lb.) pork tenderloin
6 (6-inch) skewers, soaked in water for at least 30 minutes
additional lemongrass stalks sliced on the bias
Peanut Dipping Sauce:
¼ cup creamy peanut butter
¼ cup hoisin sauce
1 Tblsp chili garlic sauce
1 tsp sugar
3 Tblsp white wine vinegar
shredded carrots and chopped unsalted peanuts for garnish
Instructions
Combine the first 8 ingredients in a bowl and whisk.Cut the pork tenderloin in half lengthwise, then into 2-inch chunks. Add the pork to the bowl, toss to coat and marinate for 20 minutes or overnight, if you have planned ahead.
Preheat the grill to medium heat, then thread the pork on skews, alternating with extra lemongrass garnish. Grill 3-5 minutes per side, until cooked through. (These can easily be put under the broiler.) Serve skewers with peanut sauce.
For the dipping sauce, combine the peanut butter, hoisin sauce, chili garlic sauce and sugar and whisk. Add the vinegar one tablespoon at a time, whisking after each addition. Remove to a serving bowl and top with shredded carrots and chopped peanuts.
————————————————————————————————-
I was able to catch up on some reading over the long weekend and found some interesting recipes from the August Food & Wine. There were some yummy sounding reduced fat salad dressings from Bobby Flay. Check out his Reinvented Russian Dressing and Smoky Orange Vinaigrette. Also looking forward to trying this Red-Tomato Marmalade from the same issue.  -alyce eyster
————————————————————————————————-