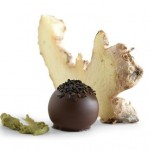 It's that time of year when thoughts turn to chocolate. That is (for me), small doses of artfully packaged, luxury chocolate. I thought I'd share some of my favorites.
I am passionate about Vosges Haut Chocolat's Aztec Elixir. This sipping chocolate is an intoxicating combination of chilies, cinnamon, vanilla bean and dark chocolate. Vosges is known for their interesting flavor combinations in truffles and bars too, like curry, coconut and milk chocolate in the Naga truffle and of course the sublime bacon bar. Yes, chocolate and bacon come together to create a very satisfying flavor profile. Vosges has locations in Chicago, Vegas and New York. I'll be purchasing some truffles online this Valentine's day.
One thing I love about Paris is how there seems to be a chocolate shop on every block. One particular standout of my last trip was La Maison du Chocolate. Lucky New Yorkers have four locations to visit, their only boutiques in the United States, but the rest of us can order from www.lamaisonduchocolat.us.
Another quality U.S. chocolatier I've written about before is Lake Champlain Chocolates, located in Vermont. These chocolates, in their lovely season-specific packaging, can be found at their boutiques in Vermont, at Whole Foods stores, and ordered via the Internet.
Texas locavores have fine options, as well. If milk chocolate oozing with caramel, spiked with cashews and Jack Daniel's® and finished off with fleur de sel sounds as good to you as it does to me, then check out Houston chocolatier Brown Paper Chocolates. In Dallas, local artisans include Morgen Chocolate, known for their molds and super-luxury player Noka.
Now the above chocolates have all passed the taste test, but I also wanted to mention a few I've not tasted but placed Best of Show at New York's 2009 Chocolate Show in November. So, chocolate geeks, click through to get more info on these guys: Madecasse, William Dean Chocolates, Christopher Michael Chocolates, Fika Chocolat, Jer's Handmade Chocolates and Santander. Enjoy your chocolate! -alyce eyster
Photo courtesy Vosges Haut Chocolat.