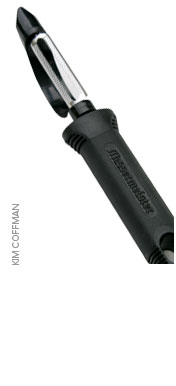 Completely A-Peeling
Think you can't peel tomatoes without boiling them first? Think again. Messermeister's Serrated Swivel Peeler ($5.50) swiftly and neatly trims the skin off tomatoes, peaches, kiwis, mangos, eggplant, butternut squash and beyond. The sharp serrated edge prevents slipping on waxy produce skins, the swiveling blade
provides control and the black rubberized handle promotes comfort. This little
gem is even dishwasher safe. The cooking tools category is overrun with useless
gadgets, but this one is here to stay. It?s a favorite in our kitchen and will
be in yours too.
To purchase, click here – www.surlatable.com.
Great Slices
I've always intended to take a knife skills class so I can master 1/8-inch by 1/8-inch mirepoix and paper thin onion slices. In the meantime, I purchased a Japanese mandoline. My kitchen with minimal storage space demanded that I find something relatively compact. I found it in the Super Benriner hand-held mandoline ($49.95). It comes complete with three grades of blades ? fine, medium and coarse for shredding and a plastic finger guard. I mastered those paper thin onion slices
and it was thrilling. Love this tool.
To purchase, click here – www.surlatable.com.