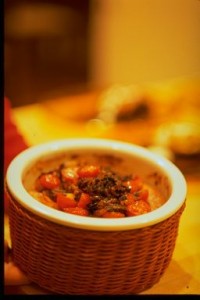 Thank you, culinarythymes.com reader Brenda, for bringing this great recipe to my attention. You see, in our online archive, gremlins had replaced certain fractions with Greek symbols, so Brenda emailed to get the correct quantities. Well, upon further inspection, I found sentences spliced and paragraphs missing. Blame it on a server switch not so long ago or the intern J. Regardless, my face is red. But back to the recipe. This is a fabulous dish for this time of year. It's hearty, has a great texture and is nice blend of savory with a touch of sweet, thanks to caramelized onions. And who doesn't love caramelized onions? Enjoy! –alyce eyster
MEXICAN GRITS SOUFFLE WITH CUMIN, MONTEREY JACK AND CARMELIZED ONIONS
Prep Time:
Cook Time:
Total Time:
Ingredients
MEXICAN GRITS SOUFFLE WITH CUMIN, MONTEREY JACK AND CARMELIZED ONIONS
Serves 6
4 cups milk
1 cup quick-cooking grits
½ cup unsalted butter
1 tsp ground cumin
½ tsp salt
⅛ tsp cayenne pepper
3 cups grated Monterey Jack cheese
3 eggs, well beaten
Caramelized Onions:
4 Tblsp olive oil
3 yellow onions, peeled and sliced thinly
2 Tblsp sugar
Garnish: cherry tomatoes sliced in half
Instructions
Preheat oven to 350 degrees F.
Grits: Bring the milk to a boil in a large saucepan and stir in the grits. Reduce heat and continue to stir as mixture thickens, 3-4 minutes.
Remove from heat and stir in the remaining ingredients, except the eggs. Beat the eggs in with a whisk. Pour the mixture into a well-buttered 2½ quart casserole or souffle dish. Bake uncovered for 1 hour or until puffed and golden brown.
Caramelized Onions: Add the oil to a large skillet and saute the onions until golden brown. Sprinkle on sugar and continue to saute until the onions are well browned. Drain on a paper towel to remove excess oil.
Garnish with the onions and cherry tomatoes.