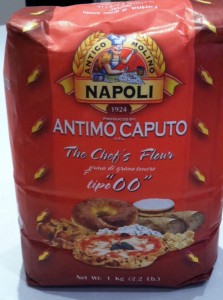 My intentions for family time this Sunday were well-meaning. We'd play cheese maker and, of course, the experiment would yield several yummy mozzarella balls. I could just taste it — creamy mozz from my own kitchen atop homemade pizza — heaven! Just the ticket for red-carpet watching in the evening.
Well, let's just say the rookie cheese making did not go as planned. Seems the curds did not form properly because we (unknowingly) used the wrong kind of milk, ultra-pasteurized. Many brands of milk, even organic, are ultra-pasteurized for longer shelf life and it's hard to determine this from the label.
Making mozz is pretty easy (I think), but finding milk that is not ultra-pasteurized is key. Lesson learned. Next time I'll need to find a local source for the milk.
But the Sunday cooking was not all failure.
Recently I dined at a new pizza place in my neck of the woods called Pizaro's. I admired the crust and had read on their site that the Italian-trained owner makes the dough with tipo 00 flour. (If you haven't tried Pizaro's, you must.) I always make my own dough using all-purpose flour. Could I take my dough to the next level with this Italian flour?
After a little research on the Internet, I found the flour at Central Market and used the Culinary Thymes recipe here. The crust was tender, yet crisp on the bottom with greatly improved flavor. I've updated the dough recipe, and here are a few more tips from the Sunday pizza-making.
->I added more salt and rosemary leaves to the dough for a little extra flavor.
->I placed the stone in the top third of the oven, rather than the center rack, which is how I'd always done it in the past.
->I preheated the stone for at least an hour at 550 degrees on the convection setting. The pizzas took about 6 minutes to bake, with no burning around the edges.
->I like to roast a couple of heads of garlic in the preheating oven for the pizza. After I roll out the dough and before topping, I brush it with olive oil, then smear with roasted garlic and a few pinches of salt. Now, ready for other toppings!
So the cheese making bombed, but the pizza making did not. I'm sold on tipo 00 flour. Hope you can use these tips, and I'll take any cheese making tips I can get.
-alyce eyster