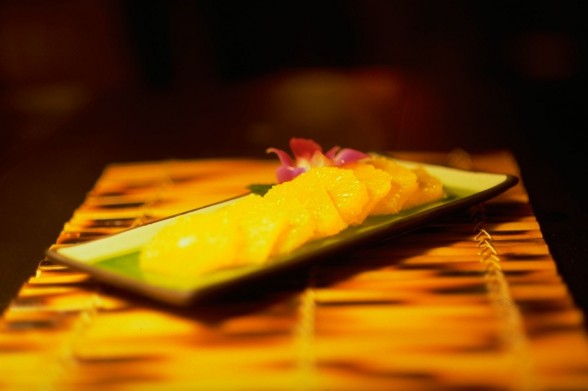 As I was eating an orange from my Farmhouse Delivery bushel this week, it reminded me of a recipe for oranges in ginger-cinnamon syrup.
What a great end to a meal to celebrate Chinese New Year, which is coming up on February 10. This a big week by the way, as Mardi Gras is February 12 and Valentine's Day follows on Friday.
I like that this dish is light, yet sweet and satifying. Sometimes I want that in a dessert. Especially this week with food-centric holidays, best to keep things light, at least to start.
And if you are looking for Asian-inspired entrees, here are some favorites:
Ginger Beef Stir Fry
Pork and Veggie Stir Fry
Broiled Red Snapper with Shiitakes
Enjoy.
-alyce
photo: fulton davenport 

Oranges Oriental in Ginger-Cinnamon Syrup
Author:
culinarythymes.com
Prep Time:
Cook Time:
Total Time:
Oranges are a traditional conclusion to a Chinese meal -- great alone or with Ginger-Currant Shortbread if you're feeling more indulgent.
Ingredients
8 oranges, peeled and sliced
2 cups water
2 cups sugar
2 inch piece of ginger, sliced
1 cinnamon stick
½ cup Cointreau
mint for garnish
Instructions
Combine water, sugar, ginger and cinnamon stick in a medium pot. Heat gently until sugar has dissolved. Simmer for 10 minutes, remove from heat, add the Coinreau and let cool completely. Remove the ginger and the cinnamon stick.
Pour syrup over orange slices in a shallow dish and refrigerate at least 1 hour.
Serve slightly chilled, garnished with mint.