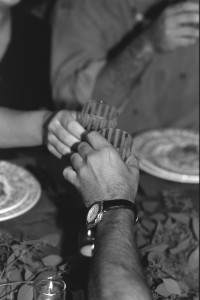 If you entertain more than 12 guests frequently, consider purchasing a couple of dozen (or more) basic, inexpensive wine glasses and plates for large party occasions.
No need to get red wine glasses and white wine glasses. I recommend a glass with a medium sized bulb to accommodate red or white. Look for a price point that will make it easy to purchase more when they break. Check out places like Bed, Bath & Beyond or Target. I got mine at Ikea, and use them every day.
Ditto for dinner and salad plates. Food looks best on white plates and I've seen nice looking options at Pier 1 and World Market. If you are in Texas, Acemart is another fun place to browse for partyware and restaurant-grade cooking supplies. Think about getting more salad plates than dinner plates, because those can always be used for dessert as well.
Don't want to buy? Then borrow wine glasses and plates from friends and family for that special party occasion!
Enjoy your weekend! -alyce
photo: fulton davenport