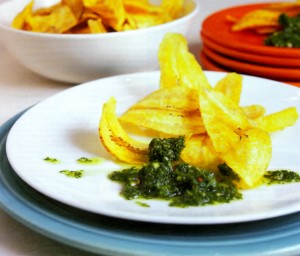 Instead of tortilla chips and salsa, try Plantain Chips with Chimichurri as an appetizer to kick off a Latin themed meal.
The subtly sweet plantain chip makes a nice pairing with the olive oil-based South American sauce and its flavors of garlic and Italian parsley.
Double the recipe if you plan to grill a steak any time soon. It makes a great accompaniment to grilled meats and vegetables, as well.
Enjoy and have a great week. -alyce eyster Photo: Fulton Davenport
Plaintain Chips with Chimichurri
Author:
http://www.culinarythymes.com
Ingredients
1 bag plantain chips
Chimichurri:
1 bunch curly parsley, stemmed & minced
8 cloves garlic, minced
1 cup olive oil
3 Tblsp fresh lemon juice
1 tsp red pepper flakes
1 tsp salt
1 tsp freshly ground black pepper
Instructions
Combine the parsley and garlic in a food processor and pulse briefly. Add the remaining ingredients and process to a smooth paste. Check for seasoning.
The chimichurri can be served immediately, but is better if it sits in the refrigerator for a few days, allowing the flavors to develop. Bring to room temperature before serving.