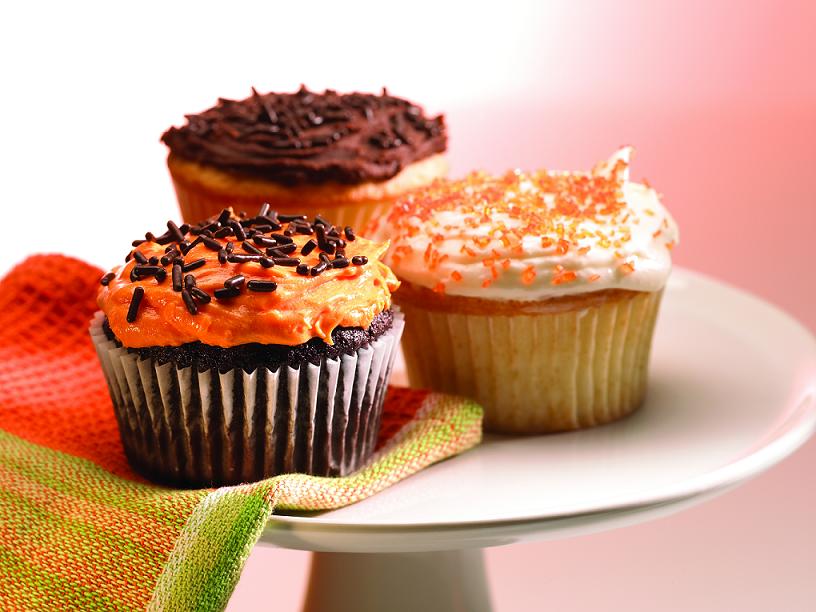 Sweety Treaties
Well maybe the macaroon is the new cupcake, but  there's no arguing that Marian Tindall's Chocolate Cupcakes with Marshmallow Creme Filling are just too cute and tasty to pass up. Did I mention the creamy filling? Oh yes, it's in there. Marian penned the Desserts & Baking column in the print version of Culinary Thymes magazine and this recipe appeared in a 2004 issue. Her white cupcakes are a personal favorite. Top the cupcakes with the chocolate frosting or the reserved cream filling. They are delish either way. So make them for the kids, the cake walk at the school's fall carnival, or serve them with some bubbles at a fall dinner party. What's not to like? Enjoy! -alyce eyster

Marian Tindall's Chocolate Cupcakes with Marshmallow Creme Filling
Prep Time:
Cook Time:
Total Time:
Photo styled by Julie Hettiger and taken by Mary Herrmann at Smith Photography.
Ingredients
½ cup plus 2 Tblsp cake flour
½ cup unsweetened Dutch-process cocoa
½ tsp baking powder
¼ tsp baking soda
Pinch of salt
2 large eggs, separated
⅓ cup vegetable oil
½ cup plus 2 Tblsp sugar
2 Tblsp water
Filling, and/or Marshmallow Creme Frosting (double this recipe if using for frosting and filling):
6 Tblsp unsalted butter, softened
1½ cups confectioners sugar, sifted
¾ cup of Kraft Jet-Puffed marshmallow creme
1½ Tblsp heavy cream
Chocolate Frosting:
¼ cup heavy cream
1 Tblsp sugar
5 oz. semisweet chocolate chips
1 Tblsp unsalted butter, softened
Instructions
Preheat the oven to 350 degrees F. Line a 12 muffin tin with fluted paper muffin cups. Sift the dry ingredients into a medium sized bowl.
In the mixing bowl of an electric or hand-held mixer, beat the egg yolks with the oil, ½ cup of sugar and the water. Add the sifted dry ingredients on low speed and combine.
In a clean bowl, with a wire whip or beaters, beat the egg whites until soft peaks form. Add the 2 Tblsp of sugar and beat until firm peaks form. Stir one scoop of whites into the chocolate mixture, then fold in the remainder. The batter will be sticky.
Using a small ice cream scoop, divide the batter equally among the 12 muffin cups. Bake for 15 to 20 minutes or until firm to the touch. Remove from the oven and let cool for 5 minutes, then remove to a wire rack to cool completely.
Meanwhile, make the filling. In a medium bowl, beat the butter with the confectioners sugar, marshmallow creme, and 1½ Tblsp heavy cream on medium speed, until fluffy. Reserve ¾ cup of the filling. Fit a pastry bag with a ¼ inch plain tip and fill with the remaining cream. Remove the paper from the cooled cupcakes and line a tray with waxed paper. Insert the tip of the pastry bag about ½ inch into the bottom of each cupcake and carefully squeeze to fill with cream. Too much cream, and the cupcake will split! Set the cupcakes on the waxed paper.
Make the chocolate frosting. Heat the cream and sugar to a simmer in a small saucepan, stirring to dissolve the sugar. Add the chocolate chips and stir until melted. Add the butter. Stir over very low heat, if chocolate is not completely smooth. Remove from heat. Dip the top of the cupcakes in the frosting to coat, or spread frosting on top with a spatula. Or frost with reserved filling, adding more cream if necessary, and food coloring if desired.