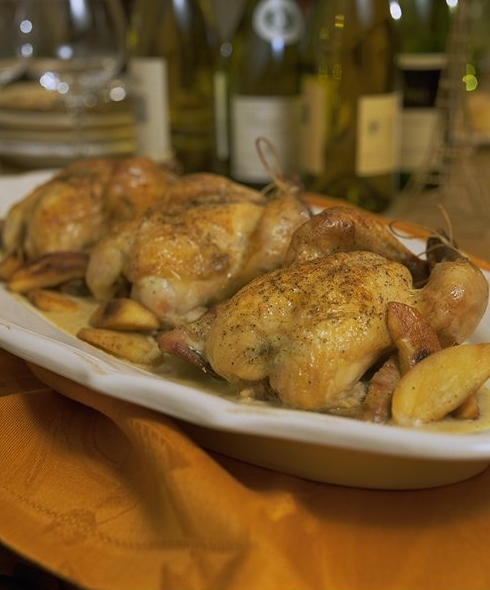 Got poultry on the menu? Rather than a roaster, go mini and try these game hens.
Apples, Calvados, an apple brandy, and cream make for a rich, fruity and satisfying flavor profile in this recipe. Cornish Game Hens with Calvados, Cream and Apples will make a lovely entree for a winter dinner party.
Or an extra special weeknight meal. Valentine's dinner at home, perhaps?
As for wine, stick with the French theme. These game hens and the luxurious apple-studded cream sauce sauce will pair nicely with a Bordeaux.
Happy Monday! -alyce eyster
Photo: Fulton Davenport
Cornish Game Hens with Calvados, Cream and Apples
Author:
culinarythymes.com
Prep Time:
Cook Time:
Total Time:
Calvados is an apple brandy made in the Normandy region of northern France.
Ingredients
3 Cornish game hens
salt & freshly ground black pepper
3 Tblsp unsalted butter, room temperature
3 Granny Smith apples
½ cup Calvados
¾ cup heavy cream
Instructions
Preheat the oven to 400 degrees F.
Fold the hens' wings behind their shoulders and tie the legs together using kitchen string. Rub the hens all over with 2 tablespoons of the butter and season generously with salt and pepper.
Place the birds in a large roasting pan, place in the oven and cook for 1 hour, basting frequently.
Meanwhile, peel and core the apples. Cut each in half and then each half into 4 slices. Heat the remaining 1 tablespoon of butter in a large saute pan over medium heat. Saute the apples until slightly browned and tender, about 10 minutes. Set aside.
Cut the cooked hens in half, place a serving platter and cover with foil. Place the roasting pan on the stove over medium heat. Add the Calvados and simmer for 5 minutes, using a wooden spoon to scrape up any bits of caramelized juices from roasting into the sauce.
Add the cream and simmer another 5 minutes until slighly thickened. Add the reserved apples to the sauce to warm. Season with salt and pepper. Pour the sauce and apples over the hens and serve immediately.