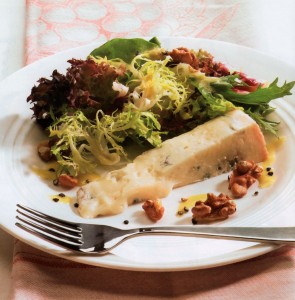 Want to take your dinner party to the next level? Don't serve that same old salad again. Shake it up by adding some cheese to the salad course.
This is a great way to try a new and different cheese, perhaps a local goat cheese or maybe a Spanish blue. And it's fun to serve the salad and cheese course the European way, after the entree. Your guests will be pleasantly surprised and the cheese will be an interesting topic of discussion during the meal.
I like to to serve the salad and cheese with a toasted crouton, or a small slice of a bread made with dried fruits like raisins or cranberries. Also remember not to overload your guests with cheese, meaning don't serve cheese as an appetizer before sitting down to dinner.
Finally, make sure the cheese is at room temperature. It will taste best that way.
Enjoy! -alyce eyster
Photo: Mary Herrmann
Food & prop styling: Julie Hettiger
Gorgonzola Dolce with Field Greens in Mustardy Vinaigrette
Author:
http://www.culinarythymes.com
Prep Time:
Cook Time:
Total Time:
Ingredients
1 lemon, juiced
1 garlic clove, minced
2 Tblsp Dijon mustard
½ cup olive oil
salt & freshly ground black pepper
6 handfuls field greens
9 oz. gorgonzola dolce
12 walnuts, toasted
Instructions
Make the vinaigrette by combining the lemon juice, garlic and Dijon in a small bowl. Whisk until combined, then slowly drizzle in the oil while gently whisking. Season to taste with salt and freshly ground black pepper.
Toss the vinaigrette with the field greens and slice the gorgonzola into equal slices. Place the gorgonzola on the plate, add the field greens and garnish with 2 toasted walnuts. Serve with a toasted baguette slice, if desired.