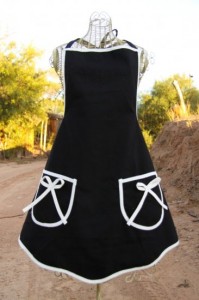 Your dinner parties are stylish, so your apron should be too.
LBD meet your kitchen cousin, Little Black Apron.
Check out Mountain Mama's selection of canvas aprons. Another favorite was this flattering version with big, bulbous pink flowers. (I think I see a peony, my favorite flower!)
At $21 these aprons make a great gift for the cook. And feel good about your purchase because a portion of sales are donated to charities like Live Strong, Make A Wish, Peace Corp, Red Cross, Doctors without Borders, UNICEF, and M.S. Society.
I mean, really, how cute!
-alyce