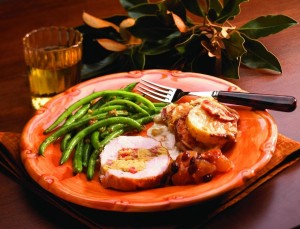 Sometimes a big bird is just too much. This Stuffed Turkey Breast is just the thing for those occasions. To save time, have your butcher bone the turkey breast and purchase cornbread for the stuffing. If you missed Russ Kane's Thanksgiving wine selections, click here for the list. And check back! We'll be posting two personal favorites, Green Beans with Dill & Shallots and Cranberry Chutney over the next few days.
Enjoy! -alyce eyster
Author:
culinarythymes.com
Prep Time:
Cook Time:
Total Time:
Photo: Ralph Smith
Ingredients
1 (4-5 lb.) turkey breast, boned
olive oil
salt & freshly ground black pepper
Glaze:
½ cup apricot preserves
¼ cup orange juice
Cornbread Stuffing:
2 Tblsp unsalted butter
6 oz. smoked sausage (casing removed), diced
3 carrots, peeled and diced
1 small onion, diced
3 ribs celery, diced
3 cloves garlic, minced
1 bay leaf
2 Tblsp chopped sage
1 recipe cornbread (follows)
¼ cup chicken broth
1 cup corn kernels
½ cup roasted red peppers
salt & freshly ground black pepper
2 eggs, well beaten
Cornbread:
1½ cups coarse ground yellow cornmeal
¾ cup all purpose flour
¾ tsp salt
2 tsp baking powder
2 eggs, well beaten
½ cup buttermilk
1 cup milk
3 Tblsp unsalted butter, melted
Preheat the oven to 350 degrees F.
Instructions
Lay the turkey breast flat, skin side down. Season the turkey with salt and pepper and place about 2-3 cups of the cornbread stuffing (recipe follows) on top. (You may need more or less stuffing depending on the size of your turkey breast.)
You will need to be able to completely close the turkey without any gaping holes. Press the stuffing firmly to compact the ingredients. Fold the breast together and tie with several piece of kitchen string.
Gently heat the apricot preserves and orange juice over low heat until preserves dissolve.
Drizzle olive oil all over the turkey, season with salt and pepper and place in a large roasting pan. Roast until golden brown and a meat thermometer registers 160 degrees F when inserted into the stuffing, about 1 hour. After the first 30 minutes, baste every 10 minutes with the apricot glaze.
Place any extra stuffing in a buttered casserole dish and bake at 350 degrees F for 30 minutes.
Make the stuffing. In a large skillet, melt the butter over medium high heat. Add the sausage, carrots, onion, celery, garlic and bay leaf. Saute for 5 minutes. Add the sage and cornbread and stir for a few minutes. Add the chicken broth and stir to combine. Remove from the heat and add the corn and roasted red peppers. Check for seasoning and stir in the eggs. Remove and discard the bay leaf.
Preheat the oven to 375 degrees F. Grease an 8 x 8″ glass baking dish. In a mixing bowl, stir together the cornmeal, flour, salt and baking powder. In another bowl, whisk together the eggs, buttermilk and milk. Add the egg mixture to the cornmeal mixture and stir until combined, but still a little lumpy. Stir in the melted butter
Pour the batter into the prepared dish and bake for 25 minutes or until the top is golden. Allow the cornbread to cool and then crumble into a large bowls for the stuffing recipe.