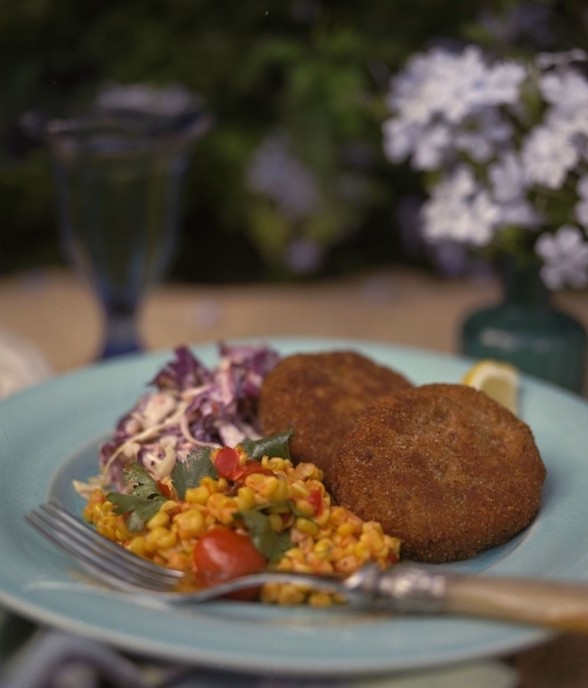 My produce bushel arrived Saturday with, among other things, 3 ears of bi-color corn.
Summer's here!
And while we ate the corn simply with butter and a sprinkling of herbs, I remembered this recipe for Summer Corn and Tomato Saute. I hope you enjoy it.
Get the other recipes in the photo here: Coleslaw with Mustard Vinaigrette and Creole Crab Cakes.
-alyce
photo: fulton davenport

Summer Corn and Tomato Saute
Author:
culinarythymes.com
Recipe Type:
vegetable side dish
Prep Time:
Cook Time:
Total Time:
Ingredients
8 ears fresh corn
3 Tblsp unsalted butter
3 Tblsp olive oil
2 bunches scallions, sliced thinly
1 large red bell pepper, chopped
1 Tblsp minced garlic
1 cup cherry or teardrop tomatoes, halved
1 handful whole cilantro leaves
juice of 1 lime
salt & freshly ground black pepper to taste
Instructions
Shuck corn. Holding the cob firmly on a cutting board and cutting from top to bottom lengthwise, cut the whole kernels off the cob.
Heat the butter and olive oil in a large skillet. Saute the scallions, bell pepper and garlic until slightly softened, about 2 minutes.
Add the corn and cook until tender, about 12 minutes. Stir frequently to ensure even cooking. Add the tomatoes and cook for 2 more minutes. At the end of cooking, add the cilantro, squeeze the lime juice into the skillet and season with salt and pepper. Serve warm or at room temperature.