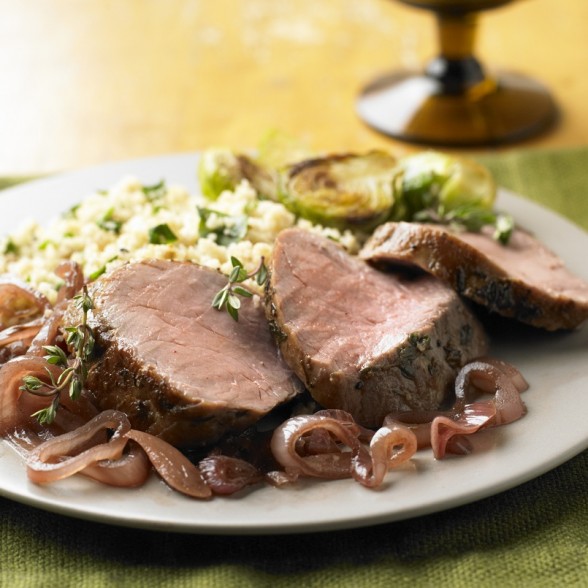 Now's about the time folks start conveniently forgetting those New Year's resolutions about eating healthy. Need some inspiration?
Michelle Dudash, registered dietitian and a Cordon Bleu-certified chef has created this pork tenderloin recipe to ensure healthy eating remains tasty, satisfying and never boring.
Sure everyone knows to choose lean cuts of poultry or fish when watching the waistline. But did you know that pork tenderloin is just as lean as a skinless chicken breast?
In fact, the American Heart Association recently certified pork tenderloin as a heart-healthy food. So instead of more tired yard bird, choose a juicy pork tenderloin and rest easy that you are making a healthy choice.
Would you like to try for a shot at winning free pork? If so, visit Facebook.com/PorkBeInspired and pledge to eat healthier.
-alyce eyster
Photo & recipe: National Pork Board

Thyme-Roasted Pork Tenderloin with Balsamic Shallot Compote
Prep Time:
Cook Time:
Total Time:
*If tenderloin is smaller or larger than 1¼ pound, adjust amount of seasoning accordingly.
Ingredients
Compote:
1 tablespoon canola oil
2¾ cups ⅛-inch thick-sliced shallots (about 4 large)
1 garlic clove, cut lengthwise into thin strips
½ cup Concord 100% grape juice
¼ cup reduced sodium or organic chicken broth
2 tablespoons balsamic vinegar
1 tablespoon honey
¼ teaspoon dried herbs de Provence
1 pinch each salt and freshly ground black pepper
Pork:
½ teaspoon salt
½ teaspoon freshly ground black pepper
¼ teaspoon dried thyme
2 teaspoons canola oil
1 pork tenderloin (about 1¼ pound*) that has sat at room temperature for 30 minutes, trimmed if needed
¼ teaspoon garlic powder
Instructions
Preheat oven to 400°F.
To make compote, heat large skillet on medium-low heat. Add oil to hot pan, followed by shallots. Stir and gently cook for 5 minutes. Do not brown. Add garlic and reduce heat as needed as vegetables shrink. Cook 10 minutes. Pour in juice, broth, vinegar, honey, and gently simmer 40 minutes or until liquid thickens and almost completely evaporates. Stir in herbs, salt, and pepper.
To prepare pork, combine salt, pepper, and thyme and sprinkle on all sides of pork. Heat large fry pan or skillet with oven-proof handle on medium-high heat and add the oil. Once oil shimmers, carefully add pork to pan, folding thinnest end of pork under itself and pressing down gently on center to ensure even browning. Partially cover with lid or foil to speed cooking while allowing steam to escape. Cook pork 3 to 4 minutes until brown on one side, then turn to brown 2 to 3 minutes on each remaining side until completely browned. Larger tenderloins may need to be turned once more to brown completely. Place in oven and cook 20 to 30 minutes, just until firm when pressed in the thickest section or an inserted thermometer reads 145°F. Remove from oven, sprinkle evenly with garlic powder, and allow to rest 5 minutes. Slice at an angle into ½-inch pieces and serve with compote.
Notes
Calories: 282 Fat: 10g Saturated Fat: 2g Cholesterol: 71mg Sodium: 661mg Carbohydrates: 22g Protein: 29g Fiber: 2g