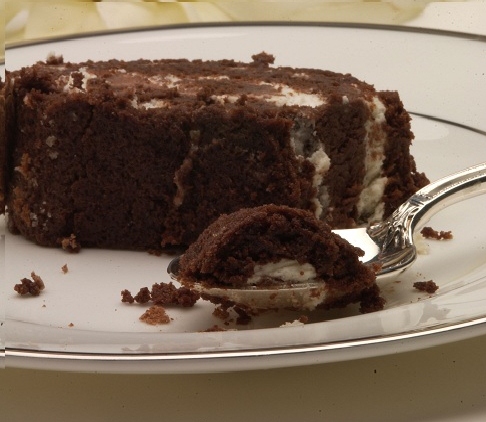 Valentine's Day is around the corner and if you are looking for something special for dessert, I have a recipe for you. Of course, it's chocolate, and as a roulade it makes a dramatic presentation.
The French term "roulade" might call to mind beef pinwheels, but the term is also applies to an eggy cake spread with a filling and rolled like a jelly roll. This roulade gets a little kick from espresso powder and a creamy texture from a whipped cream filling.
And since it's V-day, why not splurge and serve a little bubbly with the Chocolate Roulade? Or if you want to opt out of bubbles go with an orange muscat or Port.
And finally, here are some links to other chocolate dessert recipes and chocolate related links you might want to check out:
Chocolate Souffle Cake
A low-fat chocolate brownie recipe
Healthy Hot Cocoa
Local (Houston) chocolate
Chocolate Cupcakes 
Favorite Chocolate
Enjoy! -alyce eyster
Photo: Fulton Davenport

Author:
culinarythymes.com
Prep Time:
Cook Time:
Total Time:
Ingredients
5 eggs, separated
5 oz. sugar
8 oz. dark chocolate, chopped
3 oz. water
1 tsp instant espresso
1 cup heavy cream, whipped
powdered sugar
Instructions
Preheat the oven to 400 degrees F. Grease an 11x17x1 inch jelly roll pan. Line the pan with parchment paper and generously grease with butter. Set aside.
In a standing mixer, whisk the egg yolks and the sugar until pale and fluffy.
In a small pan, combine the chocolate, water and espresso and melt over low heat. Stir into the yolk mixture.
In a standing mixer and in a very clean bowl, whisk the egg whites until firm peaks form. Stir a small amount of the white into the yolk mixture to loosen and then fold in the remaining whites. Spread the batter evenly in the pan and bake for 12-15 minutes or until firm to the touch.
Let the cake cool completely before inverting it onto another sheet of parchment paper. Carefully peel away the paper it was baked on. Spread the whipped cream all over the cake. Starting at one of the smaller ends, gently role the cake into itself. Trim the ends a little and dust with powdered sugar.
The cake may be made the day before and stored in the refrigerator. Let it come to room temperature before serving.