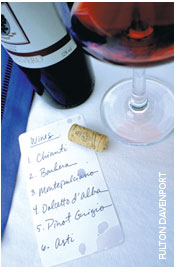 A Bright Italian White
Ruffino Orvieto Classico, 2005 ($9), affordably priced and widely available, is bright and crisp and just the thing to cut through the creamy sauce of the chicken featured in Menu of the Month. A light straw yellow, on the nose and palate there was pear, peach and citrus. And while it was dry, we liked that it was smooth too. Orvieto is in the Umbria region of Italy, surrounding the town of Orvieto. Wines from the region labeled Classico tend to be better quality.
Pinot Noir Under Ten
A drinkable pinot noir under $10 is a rarity. So we were surprised when we came upon Pepperwood Grove Pinot Noir, 2004. Our expectations were low, but for $7.99 and a widely available wine, this wine was a standout. It was delightfully peppery with mineral undertone and a short finish, but overall a light, fun red. Don't take it too seriously.