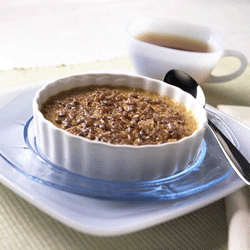 Most folks have been on the receiving end of a home-baked treat. For many breast cancer patients in treatment, home baked food from friends and family offer not only yummy goodness, but comfort and a ray of hope and joy during a tough time. ACH Food Companies, Inc., which includes brands like Karo®, Spice Islands® and Fleischmann's®, has teamed up with Susan G. Komen for the Cure® to create a recipe exchange at www.bakeforthecure.com.
In its fourth year, Bake for the Cure's mission is "to honor of all those touched by breast cancer and to celebrate the love and comfort that comes with great food." Site visitors are encouraged to share and post recipes in honor of survivors and friends, and survivors can include stories of how homemade creations touched them during treatment.
At www.bakeforthecure.com, you'll find all sorts of baked goods and desserts, plus soups, salads, entrees and a cookbook that can be purchased. The site is associated with Passionately Pink for the Cure, a grassroots effort where teams host fundraising events like bake sales or baking parties. This year, ACH Food Companies, Inc. showed its commitment to Susan G. Komen for the Cure® with a $1 million donation.
So visit the site, browse the recipes and support breast cancer awareness with foodie flare. In the meantime, here's taste of what you'll find. Seasonally sweet and satisfying, Pumpkin Creme Brulee is rife with the flavors of maple syrup, pumpkin and pecans. This dessert would make a spectacular ending to a fall dinner party. Enjoy. -alyce eyster
Author:
Recipe and photo courtesy Bake for the Cure.
Recipe Type:
Creme Brulee
Prep Time:
Cook Time:
Total Time:
Ingredients
1-3/4 cups heavy cream
1 Spice Islands Vanilla Bean, split lengthwise, pulp scraped
1 cup canned pumpkin
½ cup pure maple syrup
10 egg yolks
2 teaspoons Spice Islands Pumpkin Pie Spice
¼ cup pecans, finely chopped, toasted
1 tablespoon Spice Islands Crystallized Ginger, finely chopped
¼ cup brown sugar
1 teaspoon Spice Islands Crystallized Ginger, finely chopped
1 tablespoon pecans, finely chopped
Instructions
Preheat oven to 325ºF.
Whisk together cream, vanilla, pumpkin, and syrup in a heavy saucepan; bring to a simmer over medium heat. Whisk egg yolks and pumpkin pie spice in a separate bowl.
Add the hot pumpkin mixture slowly to the egg mixture, whisking constantly. Add ¼ cup pecans and 1 tablespoon crystallized ginger. Pour mixture into eight 6-ounce ramekins. Place ramekins in a hot water bath.
Bake about 40 to 45 minutes, or until a knife inserted in center of custard comes out clean. Transfer ramekins to a rack to cool completely. Chill, covered, until cold (at least 2 hours).
Combine sugar, 1 teaspoon ginger and 1 tablespoon pecans. Sprinkle 2 teaspoons evenly over each ramekin. Broil until topping is caramelized. Serve.