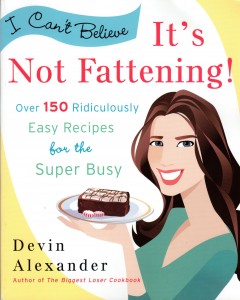 I've been doing the low-fat thing for almost a year now, so when I Can't Believe It's Not Fattening by Devin Alexander floated across my desk, it got my attention.
Especially the desserts.
I am right smack in the middle of a big-time, sweet-yearning jones, and the Skinny Cows just aren't cutting it anymore. When I remembered swim suit season is right around the corner, I got a grip and realized I am facing a typical dieter's pitfall (that nearly prompted a raid on the kids' candy stash): boredom. What I need is something sweet, satisfying and new.
I immediately flipped to the desserts section of I Can't Believe It's Not Fattening. I found Strawberry Shortcake to Go and Icy Mocha Blended. Then I turned to Peppermint Brownie Pizza, a baked concoction, creamy with whipped topping and crunchy with peppermint candies. When I am making every calorie count, mouth feel plays a big role in satiating my cravings.
In this dessert, Alexander uses No Pudge! Original Fudge Brownie Mix, but in the headnote she mentions an 88 calorie homemade brownie from a previous cookbook. This launched me on a frenzied Google search to find that recipe. You see, I love to bake and embrace whole foods, so anytime I can bake a low-fat confection, I'm into it.
But let's face it, when you are eating healthy and longing for some lusciousness sometimes you gotta indulge in a little "processed delight" (like a cookies and cream Skinny Cow ice cream sandwich) to satisfy without sabotaging the diet. For me this has made all the difference in sticking to my "lifestyle change." Alexander addresses this dilemma in the section Natural Versus Artificial Ingredients: The Perpetual Conflict.
The book is subtitled Over 150 Ridiculously Easy Recipes for the Super Busy, so the methods are quick and easy to boot. There are tips to make weeknight cooking more user-friendly. Alexander suggests cooking in bulk one night a week, relying on pre-cut, pre-chopped foods and decreasing cleanup by using parchment or foil.
Devin Alexander's resounding mantra is "Twenty minutes in the kitchen can save you three hours on a treadmill." In essence she's saying low-fat does not equal no flavor; that you can cook healthy, light and flavorful in your own kitchen. The big payoff here is once you've learned to cook lighter, you are no longer dieting. You're on the road to a healthier lifestyle and keeping the weight off for good.
Here's a recipe that spoke to me. I make a lot of air-popped popcorn as a light snack and I am constantly searching for flavorful, low-fat toppings. In her Buff-Corn recipe, Alexander blends hot sauce (I used my favorite Chipotle Tabasco) with light butter to make a spicy and piquant snack. I'm looking forward to trying her Grilled Chicken and Caramelized Onion Flat Bread with Blue Cheese. I think the Quick Crunch Potato Chips, made in the microwave, are a novel and interesting idea. And her Buffalo Shrimp sounds spicy and satisfying. There are kid-friendly recipes too, like the Chocolate Peanut Butter Breakfast Banana Split and Chocolate Peanut-Bears.
Alexander knows how to make healthy recipes taste good. She's a culinary-school trained chef and former caterer to the stars who has worked with The Biggest Loser TV show and hosts Healthy Decadence with Devin Alexander on Fit TV. She's author of the New York Times bestseller, The Biggest Loser Cookbook. But most importantly, she's a former heavy kid and teen who's kept over 55 pounds off for nearly 20 years.
For sure Devin Alexander's got the culinary cred. And clearly she knows how to keep the weight off, which is challenging when your work is food. Even accomplished cooks need guidance and education when cooking healthier. Devin Alexander is a great teacher. — alyce eyster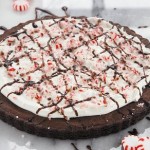 Peppermint Brownie "Pizza"
Prep Time:
Cook Time:
Total Time:
Recipe and photo used with permission from I Can't Believe It's Not Fattening: Over 150 Ridiculously Easy Recipes for the Super Busy by Devin Alexander.
Ingredients
Butter-flavored cooking spray
⅔ cup Fiber One or naturally sweetened fat-free vanilla yogurt
1 box (13.7 ounces) No Pudge! Original Fudge Brownie Mix (look for it in the baking or natural foods aisle in your grocery store or at Trader Joe's)
1 cup fat-free frozen whipped topping, defrosted
2 tablespoons finely crushed peppermint disks or candy canes
1 tablespoon chocolate syrup
Instructions
Preheat the oven to 350°F. Mist a 10½-inch tart pan with spray (as a backup, you can use a 10-inch nonstick deep-dish pizza pan, but the brownie won't pop out as easily as from a tart pan).
In a medium bowl, stir the yogurt into the brownie mix until well combined. Pour the mixture into the prepared pan and spread it with a spatula so it evenly covers the bottom of the pan. Bake for 17 to 19 minutes, or until a toothpick inserted in the center is no longer wet (a few crumbs are okay). (continued)
Allow the brownie to cool completely. Spoon the whipped topping into the center and then, using a spatula, spread it to evenly cover all but the outer ½-inch of the brownie. Sprinkle the crushed candies evenly over the top. Drizzle the syrup in a fine stream from the edge of a spoon to create a criss-cross pattern. Cut into 8 equal wedges. Serve immediately, or refrigerate for up to 2 days.
Notes
Each serving made with Fiber One yogurt has: 142 calories, 3 g protein, 30 g carbohydrates, trace fat, 0 g saturated fat, <1 mg cholester, 2 g fiber, 107 mg sodium