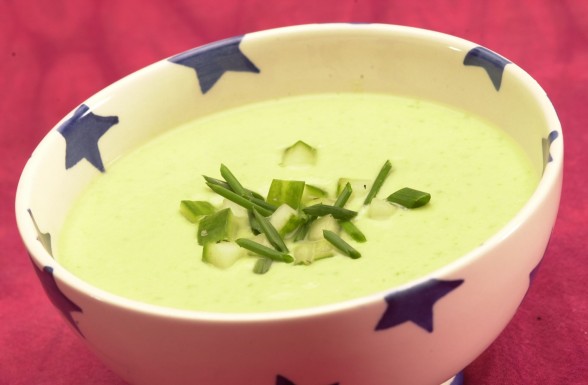 As the heat rises, I begin to add cold soups to the menu rotation. You should too, because they are utterly refreshing and delicious. This Chilled Cucumber & Avocado Soup is especially creamy and satisfying.
Serve it alongside a Mexican inspired meal like beef or chicken fajitas. Or as  an unvonventional side to a barbecue spread with ribs and  brisket.
Here's a tip for seeding the cucumbers. Cut the cuke in half lengthwise, then drag a grapefruit spoon along the center to pull the seeds out. Also, I use Fage Total plain Greek yogurt 2%, but any plain yogurt will work just fine.
Can get enough cold soup? Last week I made gazpacho. I love having it on hand for an easy lunch or dinner side. Here's another cuke soup made with buttermilk and dill. And, if you missed it, this chilled roasted red pepper soup posted recently. Enjoy & Happy Fourth! -alyce eyster
Photo: Fulton Davenport
Chilled Cucumber & Avocado Soup
Prep Time:
Cook Time:
Total Time:
Ingredients
2 ripe avocados
2 English cucumbers, seeded & roughly chopped
1 cup sour cream
1 cup plain yogurt
¼ cup chopped fresh chives
2 tsp fresh lime juice
2 tsp salt
1 small jalapeno, chopped
For garnish:
chopped cucumber
fresh chives, chopped
Instructions
Peel and pit the avocados.
Combine all the ingredients in a blender. Blend until very smooth and chill.
Garnish with the chopped cucumber and chives for service.
Thin, if necessary, with water.